There was a time when I was convinced that the end of Steve Jobs's tenure as Apple's CEO would be the moment I cashed in my tech journalism credentials and walked away.
Because Jobs is that rare thing: a visionary who excelled at both business and showmanship. It sometimes seemed to me as though he single-handedly kept the technology field exciting and passionate, especially in a world that had increasingly become obsessed with specifications and market share. While some— my colleagues included—have decried Jobs's insistence on referring to Apple's products as "magical," I always thought of it as Jobs in a rare struggle to find the right word for describing that ineffable feeling of using an Apple product.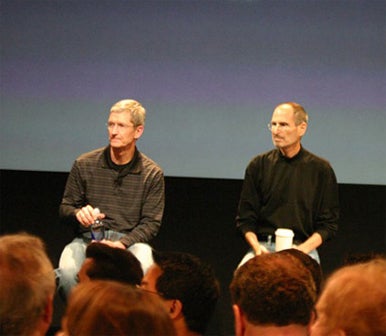 In terms of sheer presence, I'm not sure anybody will ever match Apple's co-founder. I enjoyed watching Jobs's many keynotes at Macworld Expo and Apple's Worldwide Developers Conference, first as a technology professional and interested consumer then later as a journalist. And even in the man's rare missteps—the iMac's hockey puck mouse, the buttonless iPod shuffle—I never lost the feeling that Apple was in good hands.
In March 2006, less than a month after I started blogging for Macworld, I wrote a post responding to a Sydney Morning Herald piece on what would happen to Apple after Jobs. I remember being in a San Diego hotel room while typing it up, then sitting back and thinking that an Apple without Steve Jobs at the top just wouldn't be the Apple that I found so intriguing. I couldn't imagine being interested in covering technology when its most—and possibly only—captivating figure stepped out of the limelight.
But when news broke of Jobs's resignation late on Wednesday, something strange happened: I got excited.
That's not to say I'm glad that Jobs has stepped down from the CEO position, but I do think this is one of Apple's great opportunities. The company is poised for its biggest transition in more than a decade—and this is a company that has made a lot of transitions: from PowerPC to Intel, from computer company to consumer products firm, from the edge of failure to the highest realms of success.
What I'm excited about is what comes next. Apple under Tim Cook will undeniably look a lot like Apple under Steve Jobs, at least for the foreseeable future. But at some point, it will change. A lot of people assume that change inevitably means a slide back to the dire straits Apple faced in the '90s; that's a little silly, but it's an understandable fear. After all, when a company is on top of the world, where is there to go but down?
Well, how about still up? Or laterally? Crazy talk, I know. But, hard as it is for me to believe, it's been more than five years since I wrote that piece about Apple after Jobs. An astounding amount has changed in that time; not only is the Apple of today not the Apple of the '90s or the '80s, it's also not the Apple of 2006. It seems strangely appropriate that, as the technology world faces a post-PC era, Apple is facing a post-Jobs existence; but, to paraphrase Macworld contributor Michael Gartenberg, "post Jobs" doesn't mean "sans Jobs."
As my friend John Gruber wrote, Jobs's legacy is the company he helped create. In hindsight, it's not hard to see the chess moves he made to ensure that Apple would continue to be successful after his time as CEO: the billions in cash reserves, the assembly of a solid executive team, the long-term product road maps. In his letter of resignation, Jobs alluded to the succession plan that would see Cook taking over for him—it'd be laughable to think that plan stops at "name Tim Cook as CEO."
Given that Apple itself is Jobs's greatest creation, do you think he'd want it to remain static, to keep dogmatically following "what would Steve do"? No: Apple needs to change, to adapt, to—in the words of one of its most iconic ads—keep pushing the human race forward. Those are the values that Jobs instilled in Apple's employees and etched in the company's foundation, and that's why I'm excited about its future.
Tim Cook may not be the next Steve Jobs, but his job isn't "New Steve Jobs," it's "chief executive officer": He's there to keep the company running smoothly, so that the thousands of Apple employees can concentrate on making great products. He's there to do what he's good at and run the business, just like Jonathan Ive is there to do what he's good at and design great hardware. But most of all, he's there to let Apple be Apple.
[Senior associate editor Dan Moren will be looking forward to Apple products for years to come.]