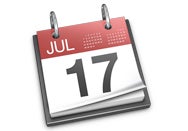 If you have a life crammed with meetings and places to be, it can be difficult for others to keep track of you. Sure, you can post your schedule online or scrawl it on a whiteboard at work, but sometimes it's helpful to present those who want to know your whereabouts with a single email message that contains the details of your coming week. The same goes if you need to keep others informed of a carpool schedule or department meetings. With Apple's utility Automator you can easily create and distribute just such a message. Here's how.
Get your actions in place
Launch Automator (in /Applications) and in the sheet that appears select iCal Alarm. Click Choose. Select the Calendar category in the left-hand column of the window. First drag Find iCal Items onto the workflow space. Select Calendars in the Find pop-up menu. The action's name will change when you do. Configure the action to read: Find Calendars Where Title Contains nameofcalendar (where nameofcalendar is the calendar from which you want to email your schedule details). For example, you might enter Home or Work.
Next drag over Filter iCal Items. ("Items" changes to "Events" when you add the action.) Configure the action to read Filter Events Where Date Starting is This Week.
Finally drag over Event Summary. You don't need to change anything about this action.
Now select the Mail category in Automator's left-hand column and add these fourth and fifth actions—New Mail Message and Send Outgoing Messages. For the New Mail Message action, enter the email addresses of those you want to share your weekly schedule with. Put something such as My Calendar in the Subject field, and enter some likewise descriptive text in the Message field. Here's what the completed workflow should look like: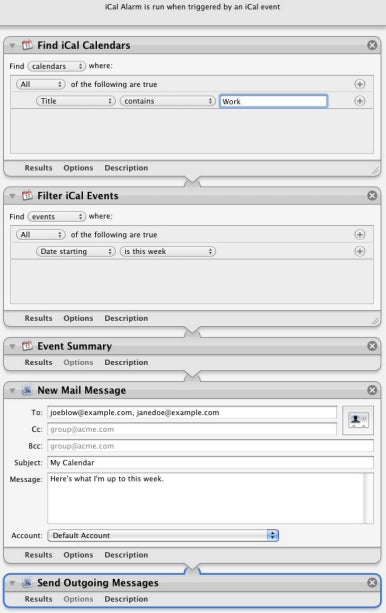 Set the time and date
Save your workflow and you'll be prompted for a name. Enter one of your choosing and click Save. Apple's iCal will launch and a new iCal event will appear. Select that event, press Command-E to edit it. Configure the event so that it repeats weekly. Now move it to Monday and set an alarm that goes off at, say, 7:00 AM.
When that alarm goes off, here's what happens: The workflow will kick in and scour the specified calendar for any events you've entered for the week. It will then summarize those events, launch Apple's Mail, place that summary in the message body, and send the message to the preconfigured recipients.
Those receiving the message will, as promised, see a summary of each event including the event's name, status, date, time, location, URL, and notes. You can't customize this summary.
Troubleshooting
Note, there's a bug in Lion's Automator that can cause an iCal Alarm workflow to spontaneously switch to a regular workflow. In such cases, choose File -> Duplicate To and in the copy of the workflow that appears, choose iCal Alarm, press Choose, and then save the workflow.