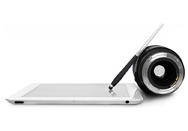 Ten One Design started the iOS stylus craze with the Pogo Sketch; now, the company's attempting to top its previous offerings with the Pogo Sketch Pro.
The Pogo Sketch, released in 2008, allowed users to draw on their iPhone or iPad far more accurately than with their fingers. Since its initial release, the market has been flooded with new offerings, yet, beyond the company's shorter-but-roughly identical Pogo Stylus, Ten One offered no new follow-up until this week.
The $25 Pogo Sketch Pro bears little resemblance to its older sibling, instead taking the form-factor of an elongated watercolor brush. Built out of unibody aluminum and wrapped in a lengthy rubber grip, the Sketch Pro offers users more ways to hold the tool; additionally, the stylus comes with two nib options, giving users the choice between the Pogo Sketch's traditional foam nib and a new, rubberized version with embedded patterned structures.
According to Ten One, these structures provide greater drawing sensitivity while keeping the tip diameter as small as possible. In the future, the company plans to sell additional nib kits, so that users can replace worn tips rather than have to purchase another stylus.
The Pogo Sketch Pro is currently available for $25 from Ten One's website; extra nib packs will be available "soon."