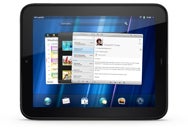 The bounty for any developer who manages to port Android to the TouchPad is growing, reaching more than $2,100 on Thursday, just as one effort to execute the port struggles to get off the ground.
Hack n Mod, a website about hacking and modifying game consoles and other electronics, on Monday began offering cash rewards to developers who could port all or parts of Android to the TouchPad. Advertisers and Hack n Mod are putting up the cash.
The total possible reward initially was $1,500, with rewards broken up based on functionality. For instance, a basic Android port currently gets $950 and one including Wi-Fi capabilities adds another $350.
But the website is now allowing individuals to donate to the reward. With those contributions, the total possible award is now up to $2,150.
Interest in running Android on the TouchPad has grown popular since Hewlett-Packard announced last week that it would stop making the tablets. It subsequently dropped the price to $99; the tablets initially retailed for $499.
While webOS, the operating system running the TouchPad, has been widely praised, some buyers may worry that HP won't continue to support it. Loading Android onto a $99 TouchPad makes it one of the best-value Android tablets available.
One group of developers working on the port generated a lot of buzz initially but some internal disputes may be slowing the project down. While a wiki page and forum about the TouchDroid project are still up, a website related to it is no longer accessible and the related HPTouchDroid Twitter account appears to have been deleted. Some of the developers are individually offering updates on the project via their own Twitter accounts, however.