Lets face it, some photos just look better in black and white. Heck, I think almost everything looks better in black and white. OK, I confess, black-and-white photography is my real passion as a photographer. I first got into it in darkrooms full of stinky chemicals while in college, and it has always held a special place in my heart. I tend to take my black-and-white work pretty seriously, so any iPhone app looking to catch my interest in this space is going to have to work pretty hard.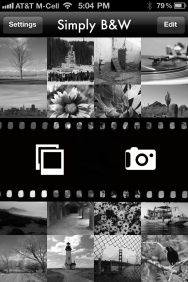 Simply B&W, by Mr. B Ware, is one of a handful of photography apps that does exactly what it says, and doesn't try to do anything else. It's just about making a decent black and white image, with no frills attached.
Like most photo apps, Simply B&W allows you to use a picture from your library or to take one from within the app. I almost always get images from my library, as I prefer to shoot with a standard camera and then edit later. Before you start editing, make sure to go directly into the settings options, where you can tell the app to leave your originals alone and preserve your EXIF data, such as the photo's original date, time, and camera model.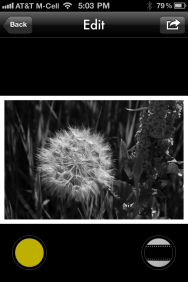 Once you have chosen an image, you are presented with three simple (although unlabeled) controls—one for a filter, one for a vignette and border, and one for brightness, contrast, and grain control. Five common filters are provided, including green, blue, yellow, orange, and the ever popular red; but there is only a simple black or white border to choose from. Although this may not seem like much in comparison to some other apps, it shows attention to the needs of black-and-white photographers. When I want to produce a black-and-white image, I look for contrast, filters, grain, and maybe a vignette. This app offers these, and a little more, but not so much as to get heavy or confusing. It also respects your previous settings, so if you have a combination you really like to use, you can just leave it there for your next image.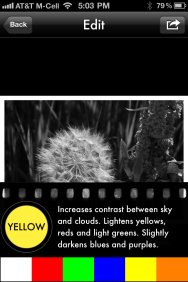 The sharing options on this app are limited: you can only save or email. With so many other sharing apps on the iPhone, I don't see this as much of an issue. The images produced look very good and the app is clean and responsive. So get out there and try some black-and-white photography. You might find it to be your passion, too.
[Jeff Phillips is an educator, photographer and technology advocate.]