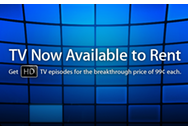 On Friday, Apple quietly removed the ability to rent TV shows from the iTunes Store. When Apple introduced the reimagined Apple TV in September 2010, the company also began offering television rentals at $1 per episode (first on the Apple TV and later in iTunes itself). But now the rental option for television is gone—and Apple has confirmed to Macworld that it's gone for good.
An Apple spokesperson told Macworld that "iTunes customers have shown they overwhelmingly prefer buying TV shows," as opposed to renting them. "iTunes in the Cloud lets customers download and watch their past TV purchases from their iOS devices, Apple TV, Mac or PC, allowing them to enjoy their programming whenever and however they choose."
TV show rentals were subject to restrictions similar to movie rentals—namely, you had 30 days to begin watching them, but once you did, you had only 48 hours to finish before they vanished (which is in fact more generous than the 24-hour window granted for movie rentals).
Also, the number of shows that were available for rental paled in comparison to the catalog Apple offered for purchase.
Apple's iTunes in the Cloud initiative, which first announced at last June's Worldwide Developers Conference, allowed the re-downloading of music, books, and apps; earlier this month, Apple extended it to allow the re-downloading of TV shows on computer and iOS devices, and streaming of those past purchases on the Apple TV as well.
While the rental option may now be off the table, the ability to purchase television shows from iTunes is still available for $2 per episode for standard definition, and $3 for HD programming (and many complete seasons are available at a discount as well). Movie rentals from the iTunes Store are unaffected by the change.