When I was twelve, my local library had a summer reading competition, aptly titled "How many books can you read?" Every interested kid could grab a poster, which had space for the names of fifty books, along with recommendations at the bottom of the page for those who weren't sure where to start. And, for motivation, there were prizes.
It was perhaps the only time I ever seriously attempted to chronicle my childhood reading habits. (I ended up back at the library in September with 75 books read and listed—five ice cream sundaes' worth.) Outside that occasion, however, I've generally failed over the years to keep track of my reading. I've made lists, I've written blurbs—I even tried to make a catalog using HyperCard. No dice.
In the intervening years, there have been several Web startups aimed at doing just that—helping you organize your book collection, or finding new and interesting books to read based on your current selections. Having recently gotten back into the "Read a Book a Week" habit, I figured I'd give these services a tour and see what exactly they have to offer readers—and if they're better at enticing me to keep track of my page-count than the promise of an ice cream sundae.
Goodreads

Of the services I looked at, this was the only one I'd even heard of in common conversation prior to writing this article. Goodreads touts itself as "the largest social network for readers in the world," with more than five million members, and is also the only service to offer fully-fledged iOS apps, rather than a mobile web interface.
As a result, Goodreads offers many things for many people—perhaps too many things. You can add books you've read, are currently reading, or plan to read to your virtual bookshelf; share this with friends (also on the service); update your page-count or status with a short insight; compare your "book compatibility" (which asks you to rate a series of popular books in various categories); read Project Gutenberg ebooks and other freely-available ebooks on the website or via the app; see your "personal statistics" on books read per-year; and share your books with friends on Facebook or Twitter. And that's just what you can do on your own.
Goodreads also has a massive online community: Here, you can review or discuss the book; create book lists (one popular one: "Books That Should Be Made Into Movies"); swap tangible books with other people around the world looking for something good to read; participate in trivia contests; join a virtual book club; read interviews with Goodreads authors; and so very much more.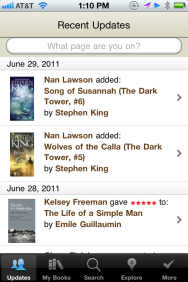 It's easy enough to find and add a book on Goodreads, and the Goodreads iOS app makes it relatively easy to update your reading list (you can even scan your books by barcode, should you want to catalog your in-house library), but in attempting to cater toward every kind of situation for a potential book reader, the service loses me. Like movie rating website Flixster, there's a certain "Must rate and date everything I've read" mentality to it when you first sign up, but after that initial push, I found little incentive to add more books. And the social timeline, while pleasant enough, requires your friends to use the service. (You can send your status updates to Twitter or Facebook, but they feel much like Gowalla and Foursquare updates when they show up in a friend's timeline—not necessarily something you'd like to read. I'd love if there were some way for the service to analyze your Facebook and Twitter timeline and pull out friends' mentions of books or book titles to show up in your Goodreads timeline, but I'm not sure how feasible that is.)
As for receiving and giving book recommendations, your main tool is Goodreads' Community Recommendations feature. Here, you can request a book using keywords and short sentences (I asked for a book on "urban science-fiction," for example), and another user going through these posts can add a recommendation for you. Nice in theory, but it again requires that other users be invested enough in going through these entries, knowing a relevant book, and having the time to add it to the post. You may also be able to find new and interesting books based on the "Readers have also enjoyed" sections on book entries, which display similarly-rated novels from other users.
To be honest, there's nothing that I inherently dislike about what Goodreads offers—its community base is substantial, the tools are easy enough to use, and its book selection is vast. But it didn't grab my attention the way I'd hoped. It felt much like walking into a private reading room, or trying to join a long-running book club: Sure, you can read here, but we're all already settled in.
Adding Books and Managing a Collection: Easy to add books and update your status, especially with the iOS app. Collection management is static, with paginated bookshelves, but you can categorize your books however you like, not just by "reading/to read/already read."
Recommending New Books: Works like a message-board system; you post what you want to read, and hope other users will come along and recommend books for you. You can also check out "Readers have also enjoyed" on book webpages.
Social Features: A-plenty. Group discussion boards, social timelines, author Q&As. But unless your book circle is already online and sharing (or you're planning on meeting a new one), it may be hard to get friends to come aboard.
LibraryThing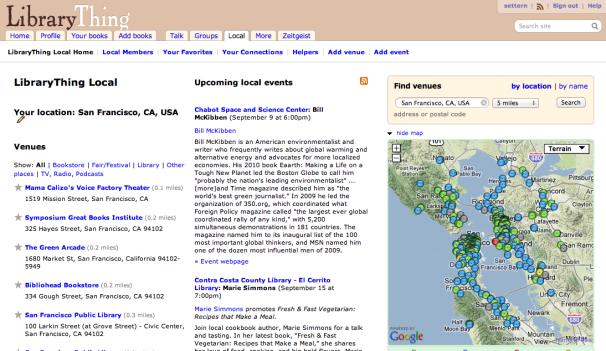 Using LibraryThing, you can almost smell the familiar musk of well-worn library books. The website may claim on the outside to offer similar services to that of Goodreads, but LibraryThing is very much for the avid reader, the kind who still goes to author signings and library read-a-thon meetups. The website's community feels like entering the library of a small town—and I say that in the highest regard.
Based on a Wiki template, the service offers new users space for 200 books on a virtual shelf; you can buy unlimited space for a year by donating $1 – $20, or buy a lifetime membership for $25. But by far, LibraryThing's strength is in its local services. Looking for a book? The service will display a list of every bookstore and library in your area with an indicator light as to whether it's currently in stock or available. You can also see all online listings (with price variables), and whether it's on Project Gutenberg or Google Books. And if you're interested in a book swap, LibraryThing interacts with every major swap website to show who wants or has what, and where—you don't even have to leave the book's page, or have an account with that service.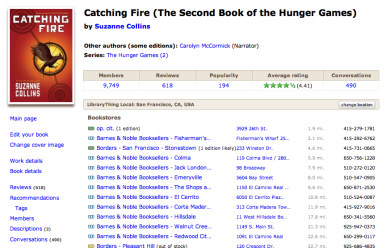 LibraryThing Local, perhaps my favorite part of this service, displays every book store, library, museum, and book-related venue in your area on a color-coded map, and goes one step further: It catalogues upcoming local events. Want to know when your favorite author is coming to town? Chances are you'll be able to find out. (You can also add events, or duplicate them, if you discover an event not listed.)
You can also find members local to your city for some real-world book discussions, and find out who among your local members are active on the service. And if that's not enough, you can look into the spout of the fire hose itself using LibraryThing's Zeitgeist, which displays all sorts of nifty statistics: Members; Books read; Authors who are active on LibraryThing (Diane Duane and Brandon Sanderson among them); the most prolific reviewers; and lowest-rated authors, among other things.
After a few minutes with the service, it was pretty clear that LibraryThing wouldn't work for my reading and cataloging needs; that being said, I found myself really impressed by it and the community. And it opened up an area I've been trying to break into since I moved to San Francisco last fall: going to local events and learning about the city's libraries.
Adding Books and Managing a Collection: Moderately challenging. You can add 200 books for free, or sign up for a paid membership if you'd like to increase that. You can search by title or ISBN, but LibraryThing has no real multifaceted mobile app—if you want to scan in your book collection, you'll have to request a CueCat. Managing is on par with Goodreads's service, including the option to make unlimited bookshelves (or, as they're called on LibraryThing, "collections").
Recommending New Books: Each book page has a massive list of various recommendation variables: Combined recommendations; books with similar tags; member recommendations based on this book; people who read this book also read the following books (in "common" and "obscure" flavors); and a mysterious list called "Special Sauce recommendations." Based on your library, you can also receive suggestions as to what book groups or topics the service thinks you'd enjoy.
Social Features: Locally oriented. LibraryThing focuses on local events, but also offers a message board, groups, and wiki-ventures like Legacy Libraries.
Shelfari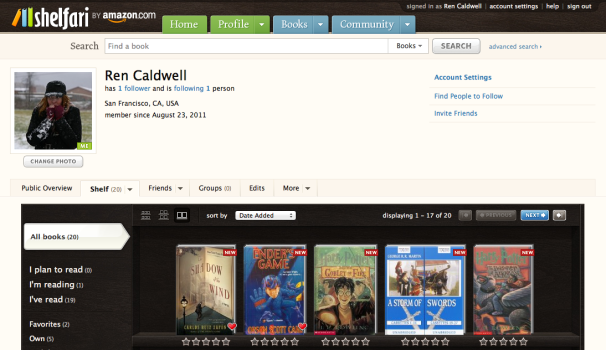 Originally launched as a startup similar to Goodreads, Shelfari was acquired by Amazon in 2008. On one hand, this gives Shelfari an easy leg up in the cataloging race, because it can automatically acquire any books (or ebooks) you've purchased with your Amazon account (including on your Kindle). Additionally, the service is clean and visually-oriented—books are represented, iBooks-like, on a wooden shelf, where you can rate, add, and edit them using pop-overs.
Unfortunately, the service is lacking one very important thing: active development. According to the service's blog, the last major feature update for Shelfari was in 2009, though minor updates are posted every so often on the Updates group. As such, there's been no move to provide options (like an iOS app) that its competitors boast, or better Facebook and Twitter integration for posting about your reading habits.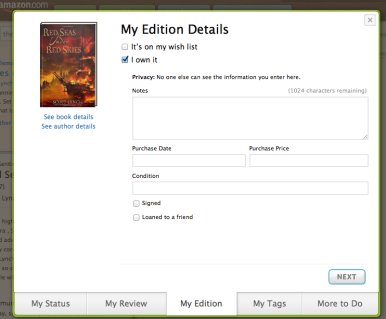 Which is a shame. Of the services I looked at, I enjoyed Shelfari's management system the most; books were simple to add, simpler to catalog, and the visual bookshelf metaphor—as corny as this stuff can get sometimes—actually feels quite rewarding. As a neat side-option, you can add your book's specific edition, and provide borrowing information—allowing you to keep a record of what books you've lent out, to whom, and when. (Also, if you have an ultra-rare copy of Fahrenheit 451, well, you can boast about it on your shelf.) The only downside there is trying to actually find the right version of the book to add to your shelf—especially when it comes to yet-to-be-released books. This comes into play when you look at Shelfari's approach to book pages, which are fully editable, like a wiki-page. In fact, the website encourages you to edit—one of the first steps you're supposed to take when signing up is adding facts to your books.
Shelfari's community features are half-decent: Your individual profile pages are akin to Facebook's, featuring a profile picture, your reading timeline, and a "Public Notes" wall; to converse with others about your books, you can open a book page to see all discussions about it, or join one of the service's many groups.
Between Shelfari and Goodreads, the former service seemed more initially appealing—it was simple, looked good, did what I needed to do quickly, and its Amazon import is awfully nice—but the lack of an iOS app and any major work on development left me ultimately disappointed.
Adding Books and Managing a Collection: Simple. Shelfari pulls its information from Amazon's massive collection and user-submitted information, and quickly found every book I input. Adding books via pop-over is simple, and you can simplify that one step further by just interacting with the quick drop-down underneath every book cover. Collections are nicely-illustrated via virtual shelf, though it would be nice to add custom bookshelves.
Recommending New Books: Poor. You can recommend a book to a friend on the service, or via email; alternatively you can look at the book webpage for more books like it; books with additional background information (prequels); books that influenced this book; books that cite this book; or books that Amazon customers also bought. Every category except the last is user-editable; there doesn't appear to be any mathematical reasoning behind it at all.
Social Features: Middling. Individual interactions on a user's profile page; group discussions; author Q&As on the Shelfari blog.
BookLamp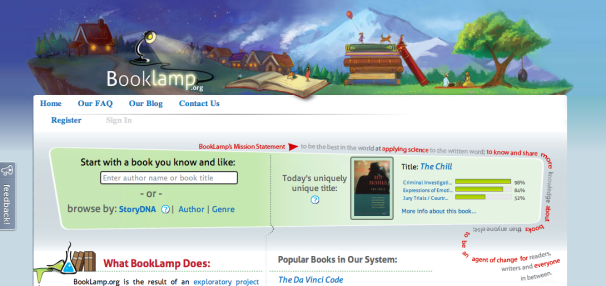 BookLamp is a baby in the social book-sharing world—the service launched to the public on August 16. The service's mission: Do for books what Pandora did for music. Which is to say, analyze them into bits of BookDNA and provide readers with an easy way to get recommendations for new and interesting things to read.
It's very obviously in early days yet—the company's still trying to negotiate deals with more publishers, as right now its selection leaves something to be desired; the founders actively point this out as "our biggest criticism of our own project," however, and are encouraging visitors to email them if they know publishers who might be interested. And the service seems to be getting results: According to a blog posted four days after the website opened, 34 publishing houses (including Bloomsbury Publishing, the folks responsible for Harry Potter) have since contacted the company.
Despite the limited selection, however, the technology is impressive. BookLamp breaks down a book into graphed "subjects"—my search on Dashiell Hammett's The Thin Man showed it to contain Criminal Investigation / Detective Work, Expressions of Emotion, Domestic Envrionments, and Financial Matters / Debt / Money. The keywords may be bland, but they're accurate. Additionally, the BookDNA panel contains a whole section devoted to language: its Motion (the amount of physical motion in a scene), Density (complexity of the text), Pacing (of the story and the text), Dialogue (amount of speech), and Description (how many pages the author spends describing wine on cobblestones). As far as I can tell, you can only search by keywords and books at this point—not by language—though it would be a welcome addition.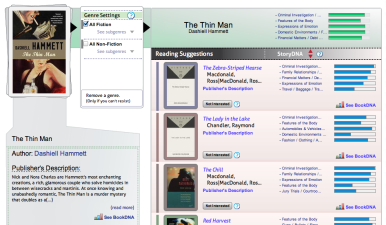 The actual book-matching process, although not the prettiest, works surprisingly well. Books suggested from my Thin Man search ranged from Raymond Chandler's The Lady in the Lake to another Hammett favorite, Red Harvest, mixed in with several books I'd never read (Rex Stout's Nero Wolfe series) but which made perfect sense in context with my search.
As for BookLamp's social aspect, well, it hasn't even been fully enabled yet. Users can register and request to be notified via email when user accounts are turned on, but until then, there's no way to bookmark interesting titles, add them to any sort of virtual bookshelf, what have you. Even so, it's still awfully fun to poke around.
There's still a lot of work that needs to be done here for BookLamp to come into its own, but I found myself intrigued by this new contender. If it focuses on tightening and freshening up the look, provides solid user support, and—dare I suggest—develops a simple iOS app (something that allows me to scan a book ISBN and receive instant book suggestions would be an excellent library companion), I can see myself using it for recommendations on a regular basis.
Adding Books and Managing a Collection: N/A.
Recommending New Books: Phenomenal, lacking only in overall title availability.
Social Features: N/A.
Just the facts
No, I didn't find the perfect book service for my needs. (It either hasn't been built yet, or I'm too picky—possibly both.) For most, however, Goodreads is perfectly serviceable, if a bit daunting to jump into. And even if I don't have a good place to list the books I've read, I have new places to visit when looking for more to read, or a place to go listen to an author. Hopefully, after reading this account, so will you.