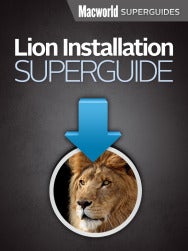 It's easier than ever to install Lion, Apple's newest version of Mac OS X—you can purchase and download it directly from the Mac App Store and install it within the hour (assuming, of course, you've got a broadband Internet connection). But just because it's easy to get doesn't mean you should dive in head-first. There are things you should do beforehand, decisions to make along the way, and tasks to perform afterwards. If you'd like a little extra help, you might be interested in Macworld's Lion Installation Superguide, an in-depth instruction manual for the process.
We originally published our complete guide to Lion installation online, but if you'd like it all in one place—and on your portable devices for easy reference during the process—we have two options for you, each priced at $2.99:
To read the book on your iPhone, iPod touch, or iPad, you can purchase it from the iBookstore, while Amazon Kindle and Kindle app users can download the book from the Amazon website.Alternatively, if you're a Macworld Insider, you can head on over to the Insider forums to get this book for free as our thanks for being a subscriber.
Be sure to check out the other books in our popular Superguide series: Total Lion, iPad 2, Digital Photography, iPhone and iPod Touch, Mac Troubleshooting, and Switching to the Mac. And don't miss out on our iBookstore-exclusive title, 100 Things Every Mac User Should Know.