Perhaps you've never felt motivated to assemble your collected photographs into comic book form, with all the stylings you'd expect from a graphic novel. That may well be because you weren't aware that many iPad apps exist with the single goal of making just such a thing possible.
Indeed they do.
Until you've used a comic book creation app, you may not know just which features the ideal such app would include. I've now spent a lot of time with three apps of this sort: Comic Life ($8), Strip Designer ($3), and ComicBook! ($2); you can trust that I am now an expert in the genre. As it turns out, you want the ideal app to make adding images simple, from a variety of sources. You want image editing and manipulation to be smooth and painless. You want oodles of options for decking out your comic's pages and decorating your book just so. And you want excellent sharing options, too.
Of the three apps I tried, unfortunately, none aces each line item on my checklist. But despite the fact that each app has some shortcomings (some more so than others), two of them are still very good apps.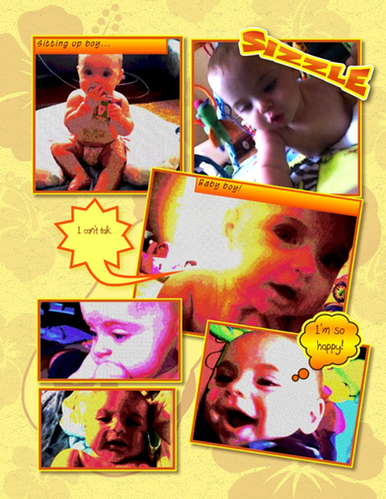 Only Comic Life from Plasq offers unique, colorful, and truly thematic themes—flowers, summertime, travel, and the like. The themes feel reminiscent of the options Apple offers when you create custom photo albums in iPhoto. All three apps offer multiple (tweakable) layouts for each page of your book, but only Comic Life embraces colorful, charming themes: Strip Designer's themes are grayscale and plain, and ComicBook is entirely themeless.
Each of the apps allows you to insert photos from your photo library, or—if you're using an iPad 2—take pictures with your built-in camera. ComicBook and Strip Designer also work on the iPhone, so you can take pictures with that device's built-in camera too. (ComicLife isn't iPhone compatible.) ComicBook, for some odd reason, sports laughably tiny tap targets; the buttons to press to insert or take a photograph are far smaller than necessary, and thus annoying to tap. Vivid Apps's Strip Designer outshines both ComicBook and ComicLife: It includes options for pulling in photographs from your Facebook account, adding freestyle drawings, and inserting custom maps.
All of the apps allow for simple, inspired manipulation of the photos (and other elements) you add to your comic books—using gestures that will feel familiar to anyone who's used the iWork suite for iOS. Moving, zooming, rotating, and cropping photos in Comic Life feels slightly less fluid than in the other two apps, but not so much that it causes frustration.
Each of the apps also offers numerous filters that you can apply to your photographs. You can apply comic qualities to them, or add a variety of other effects. Additionally, all the apps let you drag in speech and thought bubbles, other text, and assorted accoutrement to the pages of your book. Strip Designer includes some notably cool effects, but several of them seem to take a long time to apply as you adjust their settings. It's easy enough to figure out how to insert bubbles, text, and the like in Strip Designer and Comic Life, but ComicBook from 3DTopo unnecessarily makes the process a bit less intuitive: I understand the allure—really, I do—of renaming OK and Cancel as Awesome and No Way in your app's dialog boxes, but in truth all it does is slow me down.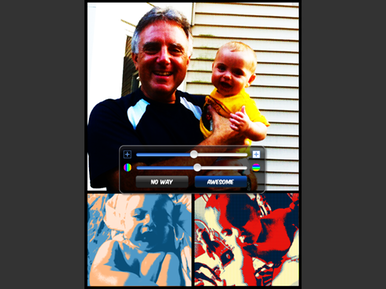 All the apps provide methods for sharing your custom comic creations when you're finished.
Comic Life lets you publish your completed project to Facebook, add it to your photo library, print it, or email it. ComicBook includes all those, plus a Twitter option. Strip Designer offers all those options, along with PDF and Flickr exports, too. But ComicBook gets into trouble with sharing. Unlike the other two apps, it offers the option to tag your friends within your comic's pages. I tagged my wife in several photos, and each time, the app mistakenly indicated that I had in fact tagged an ex-girlfriend. Awkward.
Even worse, ComicBook was the only one of the three apps that doesn't save your books for later editing. You can have one sheet open at a time; make a new one, and your old one is gone forever. Yes, you can export your creations for later viewing, but you can never go back and edit them again once you move on to your next one. That makes no sense to me whatsoever. Both Comic Life and Strip Designer allow you to save projects and reopen them later.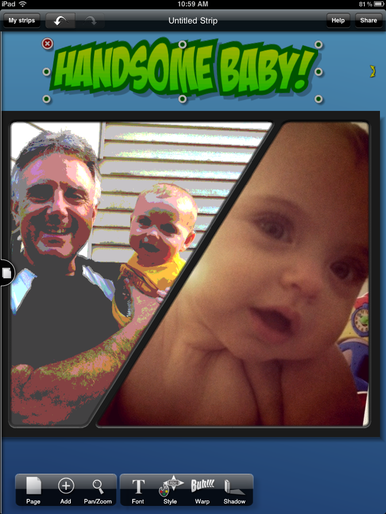 Apple's probably never going to make an app of this sort. But if it did, the end result would likely look an awful lot like Comic Life. In fact, if the app ditched the comic effects completely (which I'm not suggesting it should), it would make an excellent iPhoto album creator for iPad. Strip Designer doesn't quite match Comic Life's mix of power and cuteness, but it's still a fine, fun app.
ComicBook, however, can't hang with these other two apps. It's finicky, it constantly hides the editing bar, it tagged my ex-girlfriend, and it doesn't even save. Quite frankly, it does nothing better than the other two apps, and does plenty worse.
[Lex Friedman is a Macworld staff editor by day and fights crime by night. Or so he tells us.]