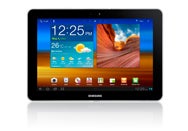 Due to its ongoing legal battle with Apple, Samsung Electronics decided to delay the launch of its Galaxy Tab 10.1 in Australia following a hearing on Monday in the Federal Court of Australia, the company said in a statement.
Samsung is now awaiting the court's decision on the matter, which is expected to arrive the week of Sep. 26, Samsung said. Apple has claimed the Galaxy Tab 10.1 infringes on some of the company's patents.
Samsung doesn't see this move as setback: "It should be noted that the court has not issued an injunction against the sale of the Galaxy Tab 10.1, and the court did not make any ruling during today's hearing," Samsung wrote in the e-mailed statement.
The company is also planning to fight back against Apple: "Today, Samsung informed the Federal Court of Australia it intends to file a cross claim against Apple Australia and Apple Inc. regarding the invalidity of the patents previously asserted by Apple and also a cross claim against Apple regarding violation of patents held by Samsung by selling its iPhones and iPads," it said in the statement.
The cross claim will be filed in the coming days, according to Samsung.
The battle between Samsung and Apple has become a worldwide event. Besides Australia, cases are ongoing in Europe, Asia and North America. Last week saw new developments in Germany and the Netherlands.
A German court upheld a preliminary injunction requested by Apple that prevents Samsung from selling its Galaxy Tab 10.1 in Germany. A Dutch court banned imports of three Samsung smartphones, including best sellers Galaxy S and Galaxy S II, after finding that they breached an Apple patent.