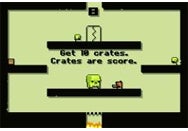 Super Crate Box from indie developer Vlambeer is a freeware title for PC and Mac which, in the creators' own words, "brings back the glory of the golden arcade age, when all that mattered was getting on that high score list." Now it's coming to iOS devices, with a release date set for this September.
If the name Vlambeer sounds vaguely familiar, they were at the center of a recent row over who really owns game ideas when rival developer-publisher Gamenauts brought out a game suspiciously similar to Vlambeer's own Ridiculous Fishing—a fact which Gamenauts didn't really seem to care about. After all, they replaced a gun-wielding fisherman with a fat ninja and that makes it a completely different game, apparently.
Super Crate Box is an earlier title from Vlambeer but it has plenty of charms all of its own, mostly relating to its unashamedly retro aesthetic, soundtrack and gameplay. A mobile version has always been a top request from fans of the original game, and now thanks to the developer's collaboration with The Blocks Cometh developer Halfbot, it's become a reality.
"We used to think that the level of control required for a game as Super Crate Box simply wasn't possible on touchscreens," said Rami Ismail of Vlambeer. "When we met up with the guys at Halfbot, they said they could pull it off. Seeing how these guys made The Blocks Cometh, one of the tightest platformers on iOS, we figured if anyone could do it, it would be them. We asked them to do a basic prototype and were amazed at how well it played. It really is Super Crate Box—just as challenging, no compromises, and on the go."
Watch out for Super Crate Box on the App Store from this September.