It's hard to love APM: Marketplace Radio, a free app from American Public Media. It does exactly what you'd expect such an app to do—give you podcast versions of the Marketplace Radio segments you might hear on your local NPR station—and not one thing more.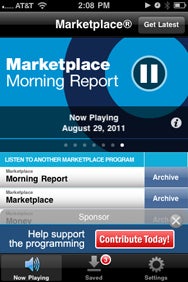 There are five different podcasts collected in this app: Marketplace, Morning Report, Mid-Day Update, Money, and Tech Report. Even the economically illiterate can enjoy the informational-but-wry fashion in which these programs report the day's business news.
By now, I've come to expect apps for audiobooks and radio programs to throw in a few extra bells and whistles—the ability to share information via Facebook or Twitter, usually, or perhaps an extensive archive of the show's programs, the way PRX's This American Life app does. But the Marketplace app does none of that. There is no sharing. The archives for each podcast stretch back only about a week or so. There's not even a link to text versions of the audio stories, which are available on the Marketplace website.
There's nothing wrong with this, exactly. If you've missed a recent segment of Marketplace or want to re-listen to an episode, this app makes it easy to do so. (The podcasts are also freely available, though separately, through iTunes.) But Marketplace makes business news enticing. Too bad the team couldn't do the same with its app.
[Joel Mathis is a freelance journalist and political columnist for Scripps Howard News Service. He lives in Philadelphia.]