It's the mobile device equivalent of showing up at a social event in the same outfit: Carrying around an iPhone, iPod touch, or iPad that sports the same wallpaper as everybody else. With Pimp Your Screen from Apalon, you can minimize the chances that your iOS device will look indistinguishable from everyone else's. The $1 app offers a broad selection of well-designed wallpapers for iOS devices of all sizes, making it easy to customize your new look.
Pimp Your Screen runs on iOS 3.0 or later, but note that if you're using the older operating system, you're limited to adding wallpaper to your lock screen. To customize your home screen wallpaper, you'll need to run iOS 4 on your device.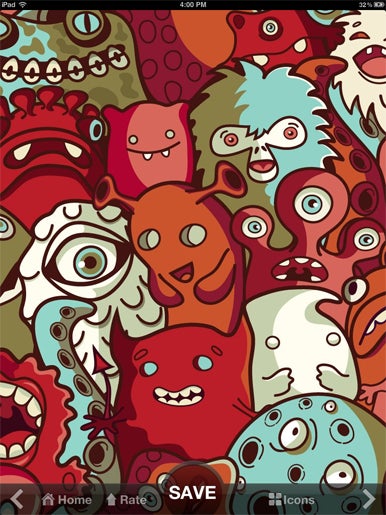 Here's how it works: you swipe through Pimp Your Screen's exclusive wallpapers, and if you find one you'd like to use, tap Save. The app will save the image to your camera roll (the same place that photos are saved when you take a photo); you then set that new image as your wallpaper, just like you would with any other photo.
Users can customize their wallpapers further using the Lock Screen and Home Screen Maker feature, which allows users to select a wallpaper and overlay shelves, icon skins, or other images on top. It's simple to use and is a nice way to make a wallpaper your own.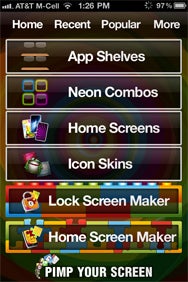 Pimp Your Screen breaks its wallpaper section into four categories: App Shelves (wallpapers with "shelves" for your app icons), Neon Combos, Home Screens, and Icon Skins (which surround your icons with different elements and designs). While the large selection of wallpapers is one of the app's main features, the lack of more organization makes it a little time consuming to find the wallpaper you're looking for. This is a minor problem, but more categorization would be nice, especially as more wallpapers are added.
One of the app's strengths, however, lies in its previewing feature. Pimp Your Screen will overlay a set of app icons, or the lock screen, on top of the wallpaper so you know exactly what the finished result will look like before you go through the effort of changing it. It's a nice little feature that makes using the app faster and more enjoyable.
I tested Pimp Your Screen on an iPhone 4 and first-generation iPad, and the app performed well on both. It loads images quickly and didn't have any noticeable bugs.
As well as the app works, I had a small beef with the selection of wallpapers. Most of Pimp Your Screen's offerings are bright, in-your-face images. A few more subtle wallpapers would be a welcome addition.
Regardless, Pimp Your Screen is fun to use, offers a broad selection of wallpapers, and makes it easy to customize images. If you're looking for a quick way to give your iPhone or iPad its own unique look, this app is a great option.
[Kyle Baxter writes and publishes the Mac weblog TightWind.]