On Tuesday, Epson America unveiled its new WorkForce Pro lineup of printers, including the all-in-one WorkForce Pro WP-4540 and WorkForce Pro WP-4530, as well as the WorkForce Pro WP-4020 inkjet printer. The printers are targeted at small businesses, providing users with faster print speeds and up to 50-percent cost savings compared to color laser printers.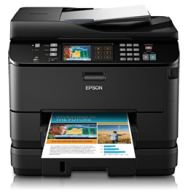 All three WorkForce Pro printers boast 16-ppm black and 11-ppm color print speeds for single-sided sheets, and 9.2-ppm black and 7.1-ppm color for two-sided sheets. The WP-4540 and WP-4530 all-in-one models also include new, extra large capacity ink cartridges, built-in document feeders, scan-to-PDF capability, built-in Wi-Fi, and more.
For those who hate reloading paper into printers, the WorkForce Pro 4540 will keep that at a minimum with its 580-sheet capacity. The WorkForce Pro 4530 has a lower capacity, at 330 sheets, but it offers a touch panel and LCD screen for access all printer functions. The WorkForce Pro 4020, the lowest-priced of the lineup, also offers a 330-sheet capacity.
Each of Epson's WorkForce Pro products comes equipped with Epson Connect, the company's new cloud and mobile services technology. With Epson Connect, users can print an email or attachment by sending it from their smartphone to an enabled Epson printer. Users can also take advantage of the company's Epson iPrint smartphone app to wirelessly print documents, photos, PDFs, and web pages from the in-app browser to a Wi-Fi-enabled printer.
The WorkForce Pro WP-4540 costs $400, the WorkForce Pro WP-4530 runs for $300, and the WorkForce Pro WP-4520 is a mere $180. The printers will be available in September through major retailers and through the Epson Store.