Yale School of Medicine is distributing the iPad 2 to every one of its students this fall, joining a trend at medical schools across the country, and foreshadowing the increasing use of tablets in hospital to replace paper charts and records.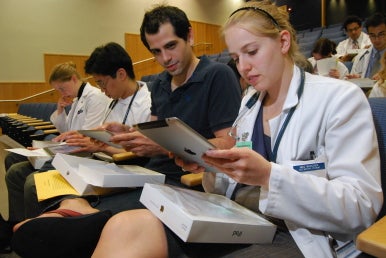 "We've had a lot of discussions with the students about this," Michael Schwartz, assistant dean for curriculum at Yale's medical school, told Macworld. "They're going to get the curriculum in higher fidelity."
The tablet comes pre-loaded with the entirety of Yale's medical curriculum for first- and second-year students; third- and fourth-year students will receive iPads stocked with information about their specialties.
The ostensible justification for the iPad distribution is ecological: Yale's press release included a photo comparing a stack of two years of med-school paperwork next to a thin tablet. But Schwartz said that students will see other benefits, including the use of apps that encourage interactive learning styles.
"When you do handouts, they're Xeroxed and they don't do the colors you have in medical imaging," he said. With the iPad "it'll be higher-fidelity information."
The school is distributing roughly 520 iPads this year—all of them top-of-the-line 64 GB, 3G-capable models; each student will also receive a Bluetooth wireless keyboard to use in conjunction with the tablet.
As students move into internships at Yale-New Haven Hospital, they'll be expected to bring their iPads for use as a diagnostic and record-keeping tool, Schwartz said. The tablets are already appearing in hospital rooms and doctors' offices; they come with software that lets the school remotely lock and wipe private patient information from devices that go missing.
"In discussions with patients sometimes you want to show them images of what's affecting them," Schwartz said. "You can take a small screen into their room, show them a CAT scan or MRI, and you can have a discussion with the patient."
He added: "It's also a format where you can have a one-on-one discussion instead of looking over a big computer screen."
Yale made its move after a small pilot program with first-generation iPads during the 2010-2011 school year. It joins other medical schools in adopting the iPad, including the University of California at Irvine, Stanford University, and the University of Central Florida.
"It enhances discussion," Schwartz said of medical students and their experience with iPads. Tablets "are moving into a number of hospitals. … It really will be part of the patient care atmosphere."