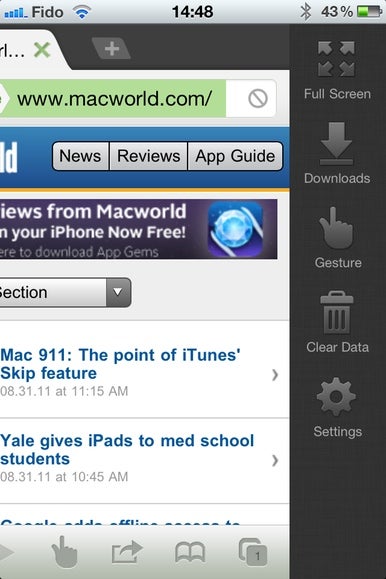 Developer MoboTap has released Dolphin, a brand-new Web browser for the iPhone and iPad designed for those who find the beautiful simplicity of Safari's mobile interface a little too, er, simple for their taste.
Although it's based on the same rendering engine, Dolphin features a user interface that differs greatly from Safari's. For starters, the browser supports tabs, allowing you to keep multiple pages open at the same time. In addition, a horizontal swipe allows you to quickly navigate between pages, and to access the app's bookmarks list and navigation shortcuts.
The app also sports a couple of unique features. For example, Webzine reads external feeds—either from your Twitter or Facebook account or from third parties like online publications—and presents them in a cohesive stream, complementing them with images where appropriate. Speed Dial, on the other hand, works a bit like the Top Sites feature of Safari for OS X, giving you an easy way to set up a short list of your favorite bookmarks.
Dolphin's most notable feature, however, is its support for gestures. These can be used to trigger all sorts of in-app functionality—such as navigating to a page or refreshing the current one—or can even be set up to visit a specific URL. To do so, the app lets you draw your own gestures directly on the screen, and then use them later to recall whatever command you associate with them. Dolphin even advises you when your gestures are too similar to existing ones to help avoid confusion.
Dolphin requires an iPhone, iPod touch, or iPad running iOS 4.0 or higher, and can be downloaded for free from the App Store.