A handshake, but no shaky hand: Panasonic executives shook hands on a deal to broadcast the 2012 Olympics live in 3D, and unveiled the company's HDC-Z10000 3D video camera with image stabilization in a news conference ahead of the Internationale Funkausstellung (IFA) trade show in Berlin on Wednesday.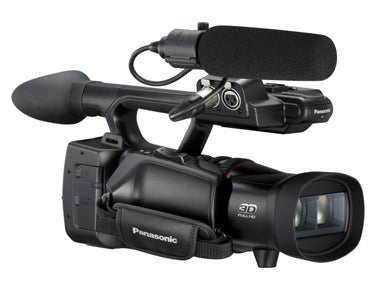 The company also unveiled additions to its Micro Four-Thirds camera range and upgrades to its Viera range of smart TVs, including a new on-screen store through which TV viewers can purchase content, games and even hardware.
The HDC-Z10000 has a 6.5-megapixel image sensor and can shoot 1080p HD video. Its two f1.5 lenses with 10x optical zoom (12x when shooting 2D) can focus down to 45 centimeters in 3D, or 3.5 cm in 2D. Two new image stabilization systems, one for 2D and one for 3D, make it easier to shoot low-noise video in low light, the company said. The camcorder can also record Dolby 5.1 sound via two XLR audio inputs with a 48V phantom power supply for external microphones.
That's not the camera the company will use for the 2012 Olympics, though: That honor will go to Panasonic's AG-3DP1. The company has agreed to supply Olympic Broadcast Services with cameras, screens and production teams to help a pool of TV companies broadcast the 2012 games live. OBS is building up a pool of broadcasters — 14 have signed up so far — who will share images of a dozen or more sports captured at 14 different Olympic venues. "We plan to broadcast over 10 hours a day of 3D product worldwide," said Manolo Romero, managing director of OBS.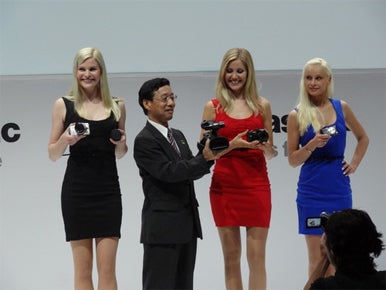 3D is also a feature of some new Viera TV screens Panasonic unveiled at the show — but the feature the company talked most about was Viera Connect, a new service that stores purchased content and games in the cloud. The company claimed, counter-intuitively, that the games will start up more quickly because they are stored in the cloud, not locally. A networked driving game demonstrated by Fabien Roth, general manager for consumer TV at Panasonic Europe, certainly reached the starting line within a few seconds—but got no further as he failed to find any other players to race against. Roth purchased the driving game in the Viera Connect on-screen store, showing how it also offered products that can't be delivered digitally, such as hardware accessories.
Most of the new TVs Panasonic unveiled were smaller LCD models, including 19-inch and 24-inch additions to the D35 range with LED backlighting, iPod docks and the ability to record to hard disk drives.
Panasonic, long a champion of plasma displays in its larger TVs, will increasingly use LCD panels in those models, Senior Vice President Mamoru Yoshida said. The contrast offered by Panasonic's latest LCD panels is approaching that of its plasma displays, the company said.
Away from the central stage and the giant screens, another Panasonic employee ventured that the most exciting new product at the show was one of the tiniest: the 14-42 millimeter Power Zoom X lens for Panasonic's Micro Four-Thirds cameras. What makes the lens special, said digital still cameras manager Sebastian Drawert, is a smooth and silent zoom that makes it suitable for video. The zoom is controlled by a small lever rather than the ring found on most zoom lenses for the single-lens reflex (SLR) that the Micro Four-Thirds format is challenging.
In addition to the new lens, Panasonic will also be showing four new cameras: the 14.1-megapixel Lumix DMC-LS5, the DMC-FZ48 and the DMC-FZ150 that can record AVCHD video and 3D still images, and the DMC-FX90 that can record AVCHD video and upload it over Wi-Fi.