With the latest version of its iOS navigation apps, Navigon is getting leaner. But that doesn't mean fewer features for the 2.0 version of Navigon's MobileNavigator lineup; instead the company plans to add new map management features to its mobile offering.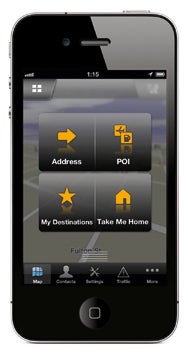 The 2.0 version of Navigon's MobileNavigator apps will let users pick which map regions to download to their iPhone. Say you've got the MobileNavigator USA app. You can download the states you want immediately—your home area, for example—with the option of adding other states when you need them. That way, you're only carrying around the maps you need, which Navigon says will free up storage space on your iPhone.
That's not the only map management change Navigon has in store with its forthcoming update. The company is also offering a quarterly map update feature called FreshMaps. Users will be able to get the latest maps, including updated points of interest, every three months for a one-time fee that covers the life of the Navigon product.
In addition, Navigon plans a revamped interface in the 2.0 update, aimed at making its navigation apps easier to use. The developer is adding animated menus to help users switch between different pages more easily; the update also supports new multi-touch user gestures.
More specifically, in the navigation screen, the Options button will be replaced with two separate buttons—one for settings and one for route information. The screens are designed to provide simpler, better organized access to MobileNavigator's assorted functions.
In addition to updating its iPhone apps, Navigon also plans to roll out similar functionality to Android users. The Android version adds map management and interface improvements in addition to in-app purchase features such as Zagat ratings and reviews that are already available to iOS devices. What's more, a Windows Phone 7 version of Navigon's premium navigation app is in the works.
Navigon announced plans for its 2.0 iPhone app update at the IFA consumer electronics trade show in Berlin on Thursday. The update is slated to hit the App Store later this fall.
The Berlin trade show marks one of the first big events attended by Navigon since its June acquisition by Garmin. Garmin snapped up its rival GPS device maker for an undisclosed sum, with Navigon now operating as a Garmin subsidiary. At a Thursday press conference, Garmin touted its offerings alongside Navigon's, outlining plans to develop what it described as a "strategic European-centric research and development incubator and product management center" designed to support the combined company.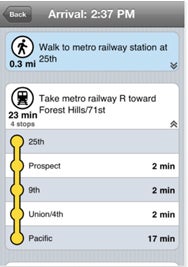 Garmin had GPS news of its own this week. It unveiled a new iPhone app called Garmin StreetPilot onDemand. The $1 download comes with 30 days of free premium features. It also includes multimodal pedestrian routing—meaning you can create routes that incorporate public transit like buses and trains. Other premium features in StreetPilot onDemand include spoken turn-by-turn guidance, 3D buildings and landmarks, and traffic rerouting.
Users can opt for a $3 monthly or $30 annual subscription to StreetPilot onDemand; Garmin is also offering an introductory $20 yearly subscription rate through September 14. Without a subscription, you can still view maps, look up points of interests, and get route information—essentially the same features you'd find in the iPhone's built-in Maps application.