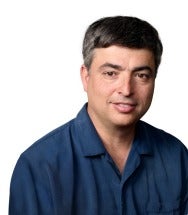 Just a week ago, Tim Cook was elevated to Apple's CEO spot; on Thursday, another of the company's prominent executives, Eddy Cue, was promoted to senior vice president of Internet software and services. One of the perks of that gig, beyond reporting directly to Tim Cook, is his very own bio page on Apple's site.
Cue, who previously served as the vice president of Internet services, has long been responsible for the iTunes Store and all its various divisions, including the App Store and the iBookstore. A 22-year veteran of Apple, he also played a large part in creating Apple's online store in 1998, and in developing the company's iLife suite.
After the fiasco that was Apple's 2008 launch of MobileMe, Cue was also tapped by then-CEO Steve Jobs to head up Apple's online service as well. Under his supervision, MobileMe developed into a more stable and capable service, albeit one that still had its share of flaws. Three years after its launch, MobileMe is riding off into the sunset, to be replaced by Apple's newest online offering, the forthcoming iCloud.
In his new role, Cue continues to be responsible for iTunes, iCloud, and the company's online advertising venture, iAd. Cue is one of the Apple executives who's become increasingly visible this year while Steve Jobs was on medical leave; during February's launch of iPad newspaper The Daily, it was Cue who took the stage to announce iTunes's new subscription model.
With iCloud on the horizon, Cue's promotion suggests that online services will be playing an even more important part in Apple's strategy going forward. Frankly, the only thing that's surprising about this move is that it took this long.