Video Time Machine offers about as much fun as any app I've ever encountered. The universal app from Original Victories has some small flaws, but you might not notice them until you've watched a couple of hours of old videos.
Rather than being a YouTube-style dumping ground for videos, Video Time Machine offers more than 10,000 "hand-picked" clips going back more than century, sorted according to the category—news, sports, advertisements, and so on—and year of origin. There are highlights from bowl games, advertisements for Jimmy Carter's 1980 campaign, the trailer for Spartacus and many other delights. The experience reminds me of the early days of "surfing" the World Wide Web, when an Internet neophyte could jump from site to site just to find out what was out there.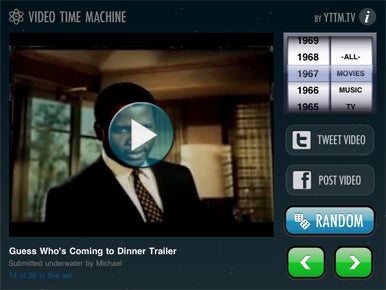 You can browse the video collections on your own, or click a button for a random year and category. And you can post the videos to Facebook or Twitter. This being a universal app, there's no noticeable difference between the iPad and iPhone experience of Video Time Machine.
The flaws? The organization can be imprecise; a McDonalds commercial from the 1980s can be found under the year 1980, despite clearly being from the latter part of the decade. The clips are short; a song from a movie or TV show, perhaps, but not the entire episode. Overall, the app is built for somewhat-random entertainment—not as a research archive.
Video Time Machine provides an enjoyable way to spend a few hours.
[Joel Mathis is a freelance journalist and political columnist for Scripps Howard News Service. He lives in Philadelphia.]