At a Glance
Expert's Rating
Pros
Dated user interface
Lacks scheduling and rescanning features
Superb online web-based help
Finds personal data in unexpected places
Good search features
Our Verdict
Who knows what evil lurks in the hearts of your hard drives? Identity Finder, that's who. This scanning program is dedicated to rooting out personal information cached without encryption anywhere on your computer's internal and attached disks. It can also securely delete, encrypt, or move files with troubling personal details.
The premise of the software is that data such as Social Security numbers, birth dates, mothers' maiden names, bank accounts, and credit card numbers could be available for easy picking by anyone who gains physical or remote access to your computer and its files. While Macs have been notably free of worms, viruses, and the like, there's no guarantee that that state will continue, nor that your computer won't be lost or stolen.
One strategy to avoid having to figure out what information is freely available on your computer is to use encryption. You can store all your documents on an encrypted volume, mounting it only when in use, or use FileVault 2 in Lion to encrypt your entire hard drive. But the encryption only protects a directory or hard drive when it's not in use. If it's booted and mounted, data can be swiped. The problem remains.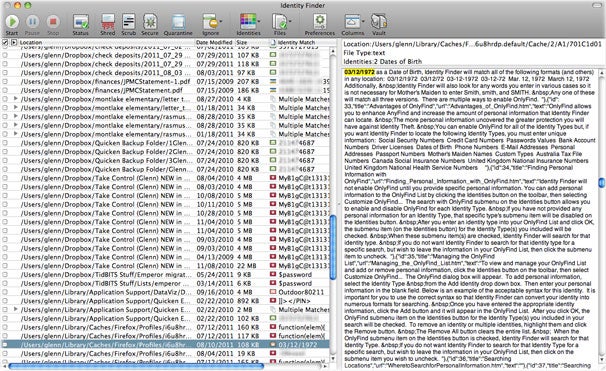 Identity Finder uses patterns to scan folders, set by default to the current user's Documents directory. You can add others. The scan reviews every bit of text in common file types—optionally including the contents of compressed files—and you can add additional ones. Identity Finder has two kinds of pattern matches: AnyFind, which looks for generic patterns, such as a credit card number in the form xxxx-xxxx-xxxx-xxxx with appropriate legitimate starting numbers, or a birthday in one of many formats; and OnlyFind, which lets you specify exact numbers or other information to scan for.
You can combine AnyFind and OnlyFind for most categories, like Driver License or Date of Birth. This could produce a better match when a number you specify is found, but it's not in precisely the correct pattern or region that Identity Finder matches generically. Some kinds of patterns must be defined to create matches, such as a passport number.
The program also offers MultiFind, which lets you set thresholds for how many bits of personal information are found in a single document. Preset selections let you choose from three somewhat prefab sets (health, financial or "PCI", and a generic MultiFind list), or you can define your own.
I ran multiple scans of a computer I've used for years, which has all sorts of crusty files I've forgotten about. Using just AnyFind, the program turned up some surprising cached data from dead programs, information embedded in PDFs (such as downloaded credit-card statements) that shouldn't have been lying around on my hard drive, and a lot of generic instances of a password variables (literally "$password") in scripts associated with other Mac applications. It took seven hours to scan tens of gigabytes of data, and I ran it overnight. You don't need to perform the scan routinely, nor while watching it work, so that seems reasonable given the quantity of data examined.
With OnlyFind enabled and a variety of personal details about myself and my family entered, Identity Finder turned up quite a bit more. Credit card numbers were available in downloaded statements in PDF form; the banks didn't obscure the numbers. A common password I use was found in the clear in some database-accessing scripts I had scattered about. And quite a bit of info was in Firefox's caches.
Once I had matches, Identity Finder provides single click actions to perform, if you want to proceed. Shred, Scrub, Secure, and Quarantine are the four primary actions you can take, providing a nice set of distinctions. Shred writes over the file's contents repeatedly with zeroes, making it ostensibly unrecoverable even by governments. Scrub removes the offending bit or bits of text from a file, leaving it otherwise unchanged for some files. The company's online documentation fails to explain which file types beyond plain text can be modified. Secure uses Identity Finder's built-in encryption routines to scramble the file and save it with a special extension. You use the software's Vault feature to reverse the process. You can also click Vault and encrypt any arbitrary file on mounted disks. Finally, Quarantine lets you move files to another location. This would make sense if you had a removable drive or encrypted, mountable disk image on which you kept more sensitive data.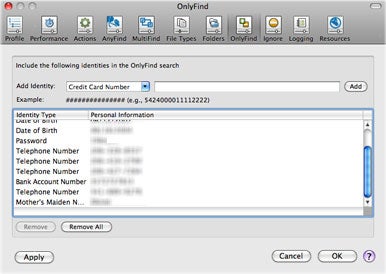 The software's interface could use some work. It has clunky modal buttons and information buried within preferences, as well as a toolbar of buttons that don't perform the same kinds of actions. Start, Pause, and Stop actions sit cheek by jowl with Shred and Quarantine, which only work with items selected. You can't paste in the long serial number, an example of a lack of thoroughness in making a program intended for beginning through advanced users approachable.
Another awkwardness comes when setting up MultiFind. You cannot change a value from "no" (meaning to require it in a search) to "yes" without selecting the item, clicking Remove, then choosing the category from a pop-up menu, checking a box to require it, and finally clicking Add. That should be a single pop-up menu choice to switch No to Yes.
The superb online Web-based help offers examples and good detail. Unfortunately, even weeks after 5.0, and more recently after 5.1 had shipped, the help documentation was missing information about new features. It gradually improved during the review period.
The program has a surprising omission. It cannot be scheduled to run, nor can you have it record which files (and corresponding modification dates) it's looked at before. One might expect to run this regularly after purchase, and having to perform a full scan each time seems a waste. An Ignore option lets you exclude certain files and patterns from future matches, but not exclude all previously scanned but unchanged files.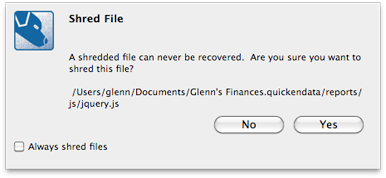 If you decided to buy the software from the company's website, Identity Finder pulls a nasty trick and has a drawback. Go to select a product, and the Computers pop-up menu is prefilled to 3, rather than 1. If you weren't paying attention, you could buy more licenses than you intended. Each license is also yearly, with updates to definitions and the program, which seems hard to justify without scheduling features that allow you to use the program to scan automatically on a recurring basis.
Macworld's buying advice
Identity Finder carries out the task which it purports to quite well. It is rough around the edges in ways that might bewilder a less-sophisticated user, which should be part of the target demographic. The lack of scheduling and rescanning features make it less useful than it could otherwise be.
[Glenn Fleishman is a senior contributor at Macworld, and a regular writer for The Economist's Babbage blog. His most recent book is Take Control of Your 802.11n AirPort Network in Lion.]