Each year, EA puts out another edition of its storied Madden video game football franchise. And this year, for the third year running, it's made iOS-friendly versions of the game available, too. EA released Madden 12 in two versions: a $7 iPhone version, and a $10 iPad edition.
I've played Madden on numerous consoles, and I've long loved the game. The iOS editions of the game are better than nothing, I guess, but only just barely.
When you first launch Madden 12, the game will prompt you to create an Origin account. Origin is EA's latest online gaming system; Madden depends on it, and not Apple's Game Center, for leaderboard tracking. (You can't play a game against another online opponent.) The Origin account creation process is buggy: It didn't like my proposed username, but its list of suggested alternatives was blank. It showed a green checkmark to indicate that my password passed muster, and then popped up an error when I submitted the registration form, saying that my password in fact contained invalid characters—specifically, a punctuation mark.
Get past that Origin process (either by giving up or toughing it out until completion), and the game asks you for your favorite team. Any clear-headed gamer will, like me, obviously pick the Philadelphia Eagles.
After you pick your team, you'll get to wait while the game downloads a roster update. In theory, anyway. Though the iPad edition did this right away, the iPhone version of the game left Steve Smith with the New York Giants, and seemed far less interested in updating its rosters automatically.
You can configure various elements of gameplay: You can set quarter length (3, 5, or 7 minutes), set the virtual d-pad to the left or right side of the screen, and choose among three difficulty levels.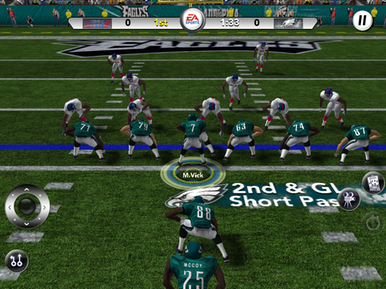 My options set, I tried an exhibition game between the Eagles and their rival, the New York Giants. (It was my first time playing Madden 12, so I figured I'd pick an easy opponent.) Annoyingly, you can't skip the coin toss process; the away team calls it, you flip the coin by swiping it, and then each team picks their sides. It's an unnecessarily tedious process for a mobile game—and surprising too, since EA clearly appreciates the need to speed up other sections of the game. Madden 12 keeps Madden 11's best innovation: GameFlow lets you review a game-selected playcall, which speeds things along, since you needn't take yet another sojourn back into the full playbook.
And oh, how I hate that playbook. It can switch between two modes—Basic and Advanced—but no matter how many times I switched it to Advanced, it reverted back to Basic on the next play. You can't swipe between pages of the playbook; you need to use tiny Next and Previous buttons. And the playbook isn't nearly as smart as it is on console editions of the game: On fourth down, the iOS versions don't automatically take you to your special teams plays (punts, field goals, and the like), which is a frustrating oversight.
The gameplay itself is a mixed bag. As was the case in Madden 11, offense is a lot more fun than defense. I found the running game a bit tough to get going in Madden 12, but the passing game works well. Again, just like in last year's edition, your receivers get marked with icons to indicate how open they are. On the iPad, you can tap icons for your receivers that sit near your quarterback, or you can tap the receivers themselves; the iPhone offers only the latter option, no doubt thanks to its more limited screen real estate.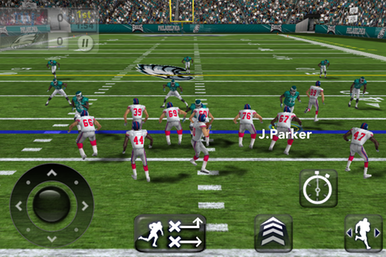 On defense, however, things are tougher to control. The action goes so quickly, and even the iPad's screen is so relatively small, that it's a real challenge to maneuver your player into position with the d-pad quickly enough to have any major impact on the play.
On both sides of the ball, you can tap a button to slow things down for a few seconds, and then use dedicated action buttons for motions like jukes and interception attempts. Nailing the timing for slowing things down and then triggering those actions is a unique challenge, and one that differs sharply from the straegies necessary for console versions of the game. I found in earlier incarnations of the iOS game, and continue to believe now, that it borders on un-fun on the defensive side of the ball.
Before the snap, you can set hot routes for individual players on both offense and defense. You can save your favorite hot routes as audibles, too, which is an especially nice touch. I may be guilty of very frequently sending DeSean Jackson streaking down the field, on every single play.
The in-game nuances that often help make Madden shine on consoles just can't be matched by the slimmer processing power (and storage space) of the iOS platform: Commentary—including anachronistic color commentary from John Madden himself—is sparse, and often lame or ill-timed when it happens. "Gets a sack on the play!" gushed the commentator, when in fact a fake punt attempt had been demolished. Factually accurate, sure, but not the right point to be making.
Madden himself uttered the same lines again and again, on consecutive plays. "Boom! Now that is big time football," he said three plays in a row, until I wished I could tackle the old coach in real life.
Other bugginess abounds. The game incorrectly reported that Michael Vick was sacked by Winston Justice; he was in fact sacked by Osi Umenyiora (who probably cheated). On another occasion, various Giants offensive lineman started jumping up and down in celebration—after their quarterback had been sacked. I suppose they just dislike Eli Manning as much as I do, but their cheering his failure seemed a bit out of character. Players don't always need to make contact for tackles to occur, and many of the tackle animations are embarrassingly poor—with both players bouncing backwards off each other, landing flat on their backs. Players also fall to the ground very slowly, seemingly able to recover their footing, but you can't control them in that stage, so of course they do hit the ground.
I mentioned GameFlow earlier, and it does help speed things along—but it comes with a serious cost. Most of the time, you get a chance to go back into your playbook and choose a different play after seeing what GameFlow picks for you. On rarer occasions, however, you don't: For example, when GameFlow decided I should line up for a field goal immediately following a fumble recovery with 12 seconds left in the half, I wasn't given the opportunity to change its mind. On the plus side, when GameFlow calls your plays, it briefly shows you all your players' routes for a few seconds as they get into formation; I wish the game did that when I picked my own plays, too. (You can tap a button to zoom out and see everyone's route, but I prefer GameFlow's more subtle approach.)
By now, you've gathered that I don't consider Madden 12 for iOS a slam dunk, home run, or two-point conversion. EA faces no small challenge bringing a full-featured football game to the iPhone or iPad, and I'm not sure that the developer has fully cracked the mystery of how best to do so just yet. Many (much, much) simpler games— Backbreaker Football, SuperShock Football—offer more fun by vastly limiting their takes on the game.
I love that I can play Madden on my iPhone and iPad. But right now, the multitouch experience simply doesn't mesh well with the densely-packed game, and the end result just isn't that fun to play.
[Macworld staff writer Lex Friedman will hit them low and hit them high and watch his Eagles fly.]