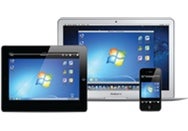 Parallels has announced the release of Parallels Desktop 7.0, its popular virtualization solution for OS X. The new version introduces a number of features designed to make the product run better under Lion.
Perhaps the most important of these new features is the ability to create virtual machines that run the client version of Lion itself, thanks to a change in the end-user license agreement of the desktop operating system's latest release.
This means that you can now run Lion inside Lion, which—besides being exquisitely meta—should be welcome news to everyone who needs to run multiple configurations at the same time, like developers, systems administrator, and, of course, journalists and reviewers.
Lion compatibility has also made its way to the front-end of Parallels, however. For example, it's now possible to run a Windows instance in the operating system's new full-screen mode, allowing the guest operating system to effectively take over all the entire screen. Windows applications also appear in Mission Control and Launchpad, from which they can be run just like their OS X counterparts.
Closer to the metal, Parallels Desktop is getting also some significant improvements. The app is now capable of simulating hardware with up to 1GB of video memory, allowing it to handle higher resolutions and providing 3D performance that is up to 45 percent better than its predecessor. The company also claims that starting, stopping, and resuming Windows can now be as much as 60 percent faster than before.
In conjunction with the new release, Parallels is also introducing an improved version of its iOS app, Parallels Mobile, that can be used to control virtual machines running Windows or OS X. Some of the enhancements that the company has added to its mobile software include support for controlling a host computer (in addition to its virtual machines), audio streaming, copying and pasting between a virtual machine and iOS, and better support for external keyboards and displays.
Parallels Desktop 7 requires OS X 10.7 Lion 10.5.2 or later and is slated for an official launch on September 6th at the price of $80. Existing customers can upgrade immediately from the product's website for $50.
Parallels Mobile, on the other hand, is a Universal app that requires an iPod touch, iPhone, or iPad running iOS 4.0 or higher. It costs $5 and can be downloaded from the App Store.
Updated at 8:46 a.m. Pacific to clarify minimum system requirements for OS X.