At a Glance
Expert's Rating
Our Verdict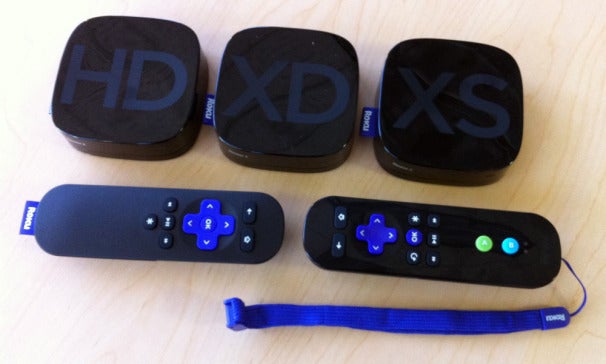 The last update to Roku's line of portable streaming video players came in 2010, right as Apple was announcing the all-new Apple TV ( ). Roku's tiny devices were overshadowed by Apple's even tinier (though heavier) black box. This year Roku has updated its players yet again, adding features while outdoing the Apple TV with boxes that are smaller and lighter than Apple's $99 player.
It's clear that the Roku 2 players—there are three models, ranging in price from $60 to $100—are inspired by the new Apple TV design. They're slightly taller than the Apple TV, but smaller in the other two dimensions, and lighter.
Like the Apple TV, the Roku 2 players are tiny devices without any hard drives, designed specifically to play back streaming video on your TV set. All models support playback of a growing collection of multimedia "channels," including Amazon Instant Video, Netflix, MLB.TV, Pandora, Hulu Plus, and more.
All Roku 2 models offer standard-definition video output via an included adapter cable, as well as high-definition video output via an HDMI port. All have a microSD card slot as well. They all support 802.11b/g/n networking (though not the 5GHz flavor of 802.11n). The $60 base-model Roku 2 HD supports 720p video (just like the Apple TV). The $80 Roku 2 XD adds support for 1080p video. The $100 Roku 2 XS offers all that, plus a snazzy Bluetooth remote-control that doubles as a game controller called the Roku Game Remote, a free copy of Angry Birds so you've got something to use that snazzy remote with, an ethernet port, and a USB port.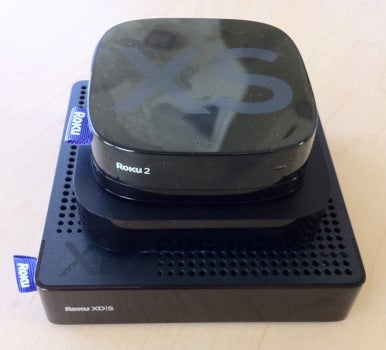 Roku offers the Roku Game Remote as an add-on for the new HD and XD models as well, as part of a $30 bundle that also includes a 2GB MicroSD card.
(And yes, you can copy videos onto a USB hard drive or keychain drive and attach them to the USB port on the Roku 2 XS to watch once you've added the USB-video channel via the Channel Store. You can watch videos stored on a MicroSD card as well. Bad news for fans of esoteric video formats, though: the Roku 2 XS only supports DRM-free H.264 MPEG-4 video.)
On the software side, the Roku 2 is very similar to older Roku video players: the company keeps evolving its interface, but it's not that different from what's currently on older Roku players. Roku's Netflix interface is my favorite of any I've tried. The Amazon and MLB interfaces aren't quite as good, but they're still easy to use.
What gives Roku a leg up on Apple is its broad support for content sources: Right now Apple TV has access to iTunes, Netflix, MLB, NBA, and a few social-network sites. Roku's got hundreds of different channels full of content, from video podcasts to live TV streams to Pandora. And Amazon's library—to buy, rent, and stream for free if you're an Amazon Prime member—is pretty impressive and getting more impressive by the day, and not available on Apple TV. If Apple opens up the Apple TV to third-party sources, things could get interesting, but right now Roku's streaming sources outclass Apple's.
However, Apple's got Roku when it comes to the audio and video you've got in your home. The Apple TV will stream any compatible video from a Mac or PC in the vicinity running iTunes, and you can wirelessly send video from an iOS device to the Apple TV using Apple's AirPlay technology; with Roku, you need to attach a device to the USB port found only on the high-end, XS model. Roku devices can only stream networked video from within your home through the use of third-party channels. These channels must be added manually, are not supported by Roku, and are hard to use. As long as Roku refuses to build in official home-network streaming support, it's hard to recommend these devices for that purpose. (And of course, if you've got a library of videos you've purchased on iTunes, you can't play them back on any non-Apple device, including these.)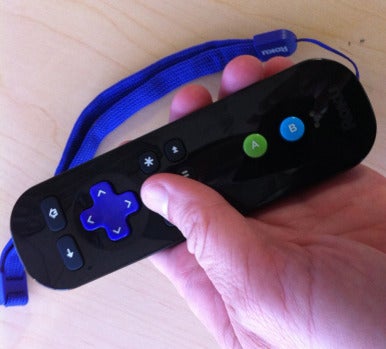 One of the interesting quirks of the Roku 2 XS is its gaming-controller remote and included copy of Angry Birds. Roku has already made more games available for purchase in the Roku store, and it's clear the company thinks these boxes have a future as a casual gaming platform. It remains to be seen what kind of games appear for the platform, but I admit I'm kind of intrigued. (Keep in mind that if you plan to download and play games, you'll almost certainly need to add a microSD card.)
I found Angry Birds to be playable, though tilting the remote to shoot was a lot less precise than using my finger on an iPad screen. I'm bored by Angry Birds at this point, but it's not a bad proof of concept. The game looked great, and there's an opportunity for video players like the Roku 2 (and the Apple TV) to appeal to people who wouldn't buy a dedicated game console. It's something worth watching, but until there are more games available, it's hard to say whether this will be a good feature or just a distraction.
Macworld's buying advice
If you don't have a large investment in iTunes video content, you'll find the Roku 2 models to be quite comparable to Apple TV, and at lower prices. At $100, the Roku 2 XS is a good value given its Bluetooth remote and ethernet support; the $60 Roku 2 HD is an even better deal for anyone looking to get Internet video on a TV as simply and cheaply as possible.
If you're a fan of a content streams not supported by Apple—Amazon Video and Hulu Plus come to mind—you'll find that Roku's broader selection of third-party content is a major advantage. Until Apple opens up the Apple TV to a broader range of third-party content, the Roku 2's flexibility gives Roku a distinct advantage.