This week's roundup of accessories for your iOS devices has a little bit of everything: Bluetooth keyboards, iPad mounts, even frikkin' lasers. Here's what caught our eye this week.
Arkon: This "mobile mounting specialist" offers three new products for displaying your tablet in a moving vehicle: the $40 universal car mount, which attaches to a vehicle's seat-rail bolt; the $40 windshield mount, which displays your iPad while anchored to the windshield; and the $40 headrest mount, for viewing the iPad from the back seat. Each is compatible with both generations of iPad, as well as most non-Apple tablets on the market.
ClamCase: The latest entry into the iPad 2 Bluetooth keyboard-case market is ClamCase's $150 Trooper, a special version of the company's eponymous keyboard case. It features a clamshell, laptop-style design; rubber feet to grip your desktop; and cutouts for the iPad 2's speaker, camera, jacks, and controls. What makes the Trooper special? Its white-and-black appearance.
Digital King: This company has introduced two new add-on camera lenses for the iPhone 4: a $60 Fish Eye lens and a $50 combination wide-and-macro lens. The former offers a 180-degree field of view, while the latter enables magnification of up to four times what the iPhone camera offers on its own. The lenses, created by Japanese designer Todo Seiko, snap directly onto the phone via a magnetic mount.
Griffin Technology: Griffin's $50 Stylus + Pen + Laser Pointer will let you take notes on an iPad and drive cats crazy. As its name describes, it's a stylus for iOS devices that can also be used for paper note-taking and for drawing attention to key points during a presentation. It's like a pen from the past and the future.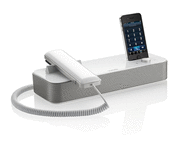 Invoxia: Have you ever thought about using your iPhone as…a phone? The folks at Invoxia have, which is why they've come up with the $600 NVX 610, a desktop phone that uses your iOS device—iPhone, iPad, or iPod touch—as its control interface. (The device's design reminds me of the speakerphone on the 1970s' Charlie's Angels.) Using the Invoxia app, callers can access their contacts, control the phone volume, and even carry on conversations in hands-free mode. The device is pitched for business use.
Just Mobile: Another option for mounting your tablet is Just Mobile's $50 Horizon mounting kit, an aluminum-framed device that includes rubber inserts that fit both generations of Apple's iPad. This "unobtrusive" wall bracket allows you to mount your tablet in either portrait or landscape mode; it includes an opening for the iPad's dock-connector port so you can charge and sync the tablet even when it's up on the wall.
Monitors in Motion: This accessory maker has several new items: The $360 Tablet docking station, a secure, lockable stand designed for businesses, museums, and other institutional-display uses; the $750 Tablet floor stand, which does the same job using a floor-mounted base; and the desk-friendly $489 Tablet lift for the iPad.
MountMe: Florida's MountMe has debuted the $40 Freedom UniMount tablet-mounting kit, which lets users attach an iPad or iPad 2 to any stable surface—walls, desks, car seats, and more—for hands-free viewing. The kit comes with a base (which doubles as a kickstand), four suction cups, and a mounting strap; comes in six colors; and is compatible with most tablets on the market.
Oxygen Audio: After debuting at the Consumer Electronics Show, Oxygen's $300 O Car car-audio system is finally hitting sales floors. The device uses your iPhone as the hub of an in-car audio system, letting you control radio, online-music services, and iTunes music—as well as view GPS navigation, if necessary—from a phone placed where you'd normally find the faceplate of your car stereo. The phone charges while in the dock, which can rotate 360 degrees for optimum viewing and control.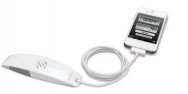 Scosche: Here's an iPhone accessory we pray you never, ever have to use: Scosche's new $350 RDTX Pro radiation detector. The meter plugs into the iPhone's dock-connector port; Scosche's forthcoming RadTest app will then display detailed radiation measurements along with color-coded indicators to let you know if the surrounding area is safe for human habitation. Scosche will donate $10 from the sale of every RDTX Pro to victims of the recent Japan tsunami, which caused catastrophic problems in one nuclear power plant; the device, however, is currently unavailable in the United States.
Stem Innovation: Need a nannycam that lets you view video from anywhere using your iOS device? Stem's $130 iZon camera fits comfortably on a shelf and transmits video to your iPhone or iPad via the free Stem:Connect app. The device can send push notifications when it senses motion or sound, and it allows the recording of video or audio directly to the user's (public or private) YouTube account.
Vuzix: If you want a big-screen movie experience without a big screen, Vuzix's $500 Wrap 1200 video glasses can provide it. Slip them on, and your eyes perceive a 75-inch screen with a 16:9 aspect ratio. The glasses come with a composite-AV cable for connecting to a DVD player or other source, as well as cables for watching video from an iPhone and iPod touch, meaning you can take the cinematic experience with you on car trips and plane rides.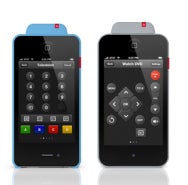 Zero1: Following on the success of its VooMoteOne device, which turns an iPhone into an infrared remote controls, Zero1 has announced the VooMote Zapper, a sleeker and more design-oriented device that comes in 11 colors. Like its predecessor, the Zapper allows you to control you multimedia system from you iOS device—iPhone, iPod touch, or iPad—via four built-in transmitters. The Zapper and its free companion app will hit the market in October.