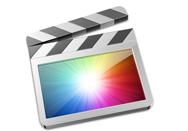 In a somewhat surprising move from the folks in Cupertino, non-linear editors and filmmakers can once again purchase Apple's now-outdated Final Cut Studio through the company's telesales number.
"As we've done before with many end-of-life software products, we have a limited quantity of Final Cut Studio still available through Apple telesales to customers who need them for ongoing projects," an Apple spokewoman said in a statement provided to Macworld.
The post-production package had originally been discontinued after Apple released Final Cut Pro X, its ground-up reworking for professional editors. The revision, however, left many industry professionals dissatisfied: They claimed that, while it improved upon certain workflows and added intriguing options, the software was still very rough, leaving out key features that many needed to properly execute their jobs.
Apple has promised that certain features will make their way over to Final Cut Pro X in subsequent updates; in the meantime, it looks as if the company has decided to placate frustrated users by providing them with the option to purchase new licenses for Final Cut Studio instead.
As first reported by MacRumors and confirmed independently by Macworld, interested customers can buy the $999 Final Cut Studio ($899 for education customers) through 1-800-MY-APPLE, the company's telesales number, using the part number (MB642Z/A). No mention was given as to whether this was a permanent re-addition to the catalog, or a temporary move; however, the post-production suite will only be available through phone sales—neither the Apple Online Store or Apple Retail Stores will carry the it—which seems to send a pretty clear indication that Apple doesn't plan to offer the older video-editing package for long.
Though this change doesn't address the multitude of problems users have with Apple's Final Cut Pro X, at least Apple looks to be listening to the complaints from its professional base. With any luck, perhaps we'll soon see FCPX's first update coming down the pipeline, as well.
[Updated 7:11 p.m. to add Apple statement.]