Creating your own cloud storage system doesn't require a degree in computer science. But it does help to choose the right equipment. A number of companies are offering network-capable hard drives that work nicely for photo backup and remote access. These network appliances typically house a couple of drives, basic server software, and an Ethernet connector. And since you don't have to wire these units directly to a computer, they can be housed anywhere you have power and a connection to the Internet.
With these basic ingredients, you can create a backup solution for your image library that also provides access to multiple Macs over a local network, and better yet, over the Web. Even when you're away from home, your photo collection is available anywhere you have reliable Internet.
I've tested three affordable network-enabled hard drives and have a few recommendations.
Buffalo Technology CloudStor 2-Bay 1 TB (2 x 1 TB) Gigabit Ethernet Network Storage ($235)
Iomega StorCenter ix2 2 TB (2 x 1TB) Network Storage Cloud Edition ($200)
Seagate BlackArmor NAS 220 2-Bay 2 TB (2 x 1 TB) Network Attached Storage ($200)
I evaluated these devices using the following categories: Ease of setup, Mac compatibility, network reliability, design quality, and value for the dollar.
Buffalo Technology CloudStor
The Buffalo drive was the most affordable of the group and by far the easiest to set up and use. Unlike the Iomega and Seagate units, Buffalo partnered with Pogoplug to handle the software for network connectivity. To get started, you connect the hard drive to the Internet via its Ethernet port, power up the unit, then go online via your Mac's Web browser to register the CloudStor. Within minutes you should have access to the hard drive via the Web browser. The interface is well designed and fairly easy to navigate.
I recommend that you also download the Pogoplug software for the Mac that enables you to view files on the CloudStor as a network drive on your desktop. This is much easier to maneuver than having to work though a browser interface. Pogoplug offers free apps for iOS devices that let you access your files on the iPhone, iPod Touch, and iPad.
The downsides to the Buffalo CloudStor are that the build quality of the unit doesn't feel as solid as its competitors, and that the drive is noisy.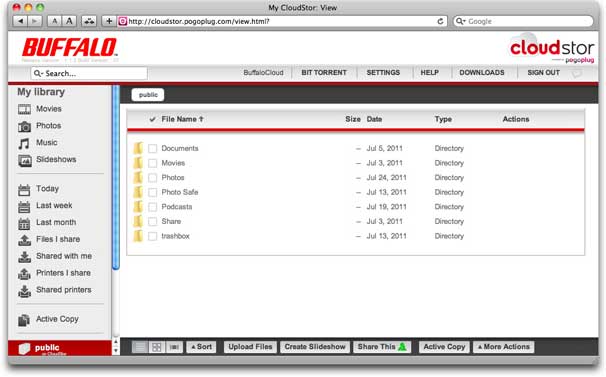 On average, it took the Buffalo CloudStor about a minute and a half to download a 27MB Raw file from a remote location. You can preload it with your master image files by connecting a separate hard drive via the CloudStor's USB port on the back of the unit, then access those files from anywhere you have an Internet connection. It's not the fastest server, but it's fine for small batch downloads. In the studio on the local area network, it was faster.
The second task was using the CloudStor as an image backup device while working on location. Wouldn't it be nice to upload a day's shoot from the hotel and know that all of your Raw files are safe and sound back home? Unfortunately for Raw shooters, the technology just isn't there yet. I tried a sample shoot of 79 Raw files that totaled about 2GB of storage, and uploaded them off the card via my MacBook Air to the Buffalo CloudStor at my studio, about six miles away. Even with really good cable Internet access on both ends, the upload took two hours. On a normal day's shoot, I rack up between 300 and 600 Raw files, and the Internet connection on the road often isn't nearly as good as the one I tested at home.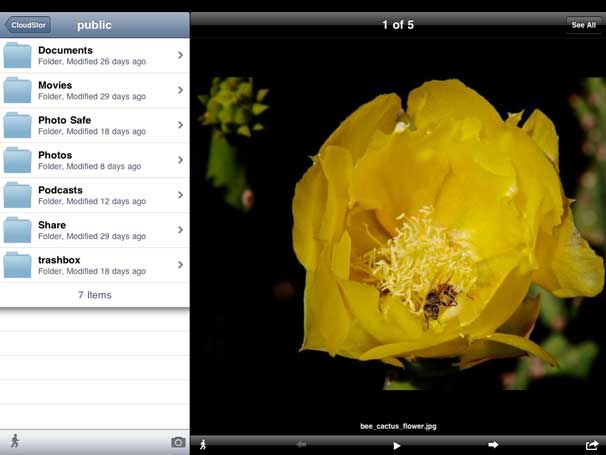 Iomega StorCenter ix2
The Iomega unit feels solid and looks handsome. It includes the Iomega Storage Manager app for the Mac that helps you connect to the device. On my local area network using a third generation AirPort Extreme, I could access the StorCenter with any of the Macs on the network via the Storage Manager app. But cloud access was far more difficult to enable because you have to configure the AirPort for port forwarding. And that's a difficult task for network newbies.
If local network access is all you need, then the Iomega StorCenter is a capable device. But if you want cloud access too, you'll need to have some understanding about advanced network configuration.
Seagate BlackArmor
The Seagate unit seems best suited for small businesses that need a network drive for a handful of employees. The Web-based administrative tools are fairly intuitive, providing the administrator with control over user access.
The BlackArmor Discovery software for the Mac makes it easy to connect to the drive over a local network. A network drive icon appears on your Mac desktop, and you can drag and drop files to the device.
File sharing becomes more difficult when you access the BlackArmor over the Internet. The Seagate Global Access service forces you to work through a Web interface to transfer files. It's far more cumbersome to use than drag and drop transfer. Additionally, the service has a tendency to go offline periodically. When this happens, you have no access to the BlackArmor via the Internet until someone at Seagate restores the global service.
As with the Iomega StorCenter, if all you need is drive access over the local network, the Seagate BlackArmor is a terrific unit. But if cloud access is important too, I don't recommend this device because of the gaps in its global service.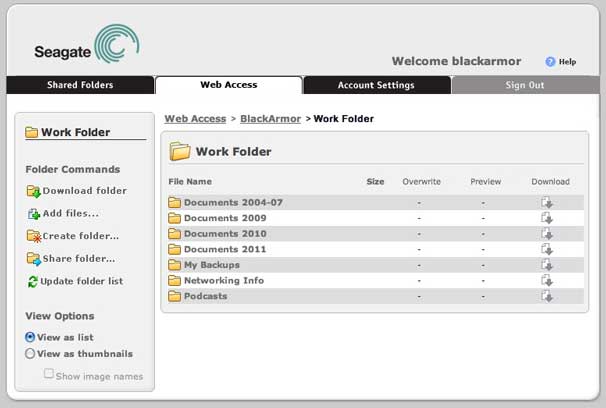 Security and drive configuration
All three devices require authentication for access. Pogoplug uses a 26-digit personal identifier code along with encryption for cloud access to enabled devices. So all other variables being secure (your computer, network, and so forth), the software seems to do a good job of keeping prying eyes away from your data.
All three units are capable of RAID 1 mirroring. This helps protect you from hard drive failure by mirroring the contents of one drive on to the other. Essentially, you have a continuous backup of your data. By doing so, you cut your capacity in half. So if you have two 1TB drives, you'll only have a total of 1TB of storage. If you don't want the backup, all three units can be configured to use all of the space for file storage (RAID 0). Make your decision as to which way you want to go when you first set up the unit. Switching RAID 1 on or off means that the existing data on the drives will be erased.
Three network-enabled hard drives
| | Buffalo CloudStor | Iomega StorCenter | Seagate BlackArmor |
| --- | --- | --- | --- |
| Ease of Set Up for Cloud Access | Excellent | Poor | Good |
| Mac Compatibility | Excellent | Good | Good |
| Cloud Access Reliability | Excellent | Excellent | Poor |
| Local Network Reliability | Excellent | Excellent | Excellent |
| Design Quality | Fair | Good | Good |
| Value for the Dollar | Excellent | Good | Good |
Uploading data to the drives
Photographers usually have many gigabytes of images that need to be initially loaded on to a new storage drive. All three of these devices have USB ports that allow you to connect another hard drive and upload data. The Iomega StorCenter has three ports, Seagate BlackArmor includes two ports, and the Buffalo CloudStor has one. You initiate the upload using the administrative tools included with each unit.
What should you do?
For ease of setup and network reliability, it's hard to beat the Buffalo Technology CloudStor. This network drive is a terrific value considering that you get terrabytes of storage, easy to use software, and all of this capability at a great price. It's the most affordable of the three tested units, and you can access your data from a Mac or iOS device.
BlackArmor NAS 220 2TB
Price When Reviewed:
$259.99
StorCenter ix2-200 2TB 2-Bay NAS Drive (USB)