The cloud-storage service Syncplicity has revamped its iOS app, expanding the previously iPhone-only offering into a iPad-friendly universal version that will let users access their documents from just about any device they own.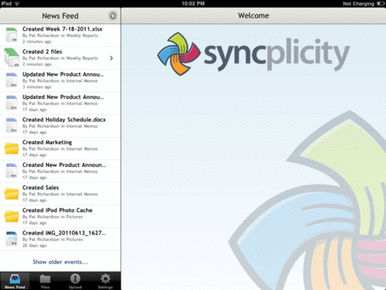 Version 1.2 of the Syncplicity app debuted Thursday in the app store, pitched primarily at business users who must share documents with multiple colleagues in multiple locations while keeping them secure at the same time.
"The Internet is becoming the de facto corporate network," said Leonard Chung, Syncplicity's cofounder and chief product strategest. "Our goal is that when people use and act on their data, they have it wherever they are."
Like OfficeDrop (or perhaps a supercharged version of Dropbox), Syncplicity lets users store, manage, and sync documents online, accessible from devices running a variety of operating systems, including iOS, Mac OS X, Windows, and Android. A "business edition" account with Syncplicity allows multiple users to access those documents; the iOS app offers the ability to upload photos and video, as well, from a mobile device.
Chung said Syncplicity offers "military-grade" security—encryption of the data during transmission between devices, as well as password protection once documents are stored on the iPhone or iPad. The company also offers a remote-wipe feature if the device goes missing.
"If somebody steals the device, they can't get at your data," Chung said.
Syncplicity's iOS app emerges just as Apple itself is getting into the cloud computing game with its forthcoming iCloud system that will give users 5GB of storage to access documents and media from multiple devices. Chung said that's not a problem—Syncplicity already offers users mobile access to their shared Google Docs, among other cloud-based services.
"We don't see them as a competitor," he said of Apple. "We see them as yet another place we can work with."
The Syncplicity app is free, and compatible with devices running iOS 4.2 or later. Users who want to access their data from more than two computers must pay a $15-a-month subscription fee; business fees start at $45 a month to let three people access up to 50 GB of shared documents.