Wednesdays are nigh-holy in the comic lover's book—that's when new releases traditionally come out. But this week, comics publisher IDW is trying something different: The company has released its first foray into the iBookstore, rolling out 20 graphic novels using the new fixed-layout ePub format, in an attempt to target new readers.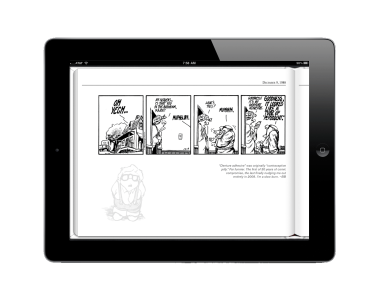 "From the brand and marketing side, iBooks is a whole new opportunity for us to capture more casual readers," said Jeff Webber, director of IDW's ePublishing group, in an interview with Macworld last week.
IDW, which publishes comics from independent artists as well as branded franchise efforts like Star Trek and Doctor Who, has been distributing comics via Apple's App Store since late 2009. Customers have been able to purchase single issues from the IDW app's built-in store, or if they're only interested in a specific franchise, from one of the company's branded apps.
Webber noted that while the apps have been fairly successful, "it's hard to do discoverability inside an app storefront." The app faces a similar problem to traditional comic-book stores: Consumers who don't read comics on a regular basis—but who might be interested in a specific franchise property, like Doctor Who, or a comic written by an author they enjoy, like Anne Rice—are less likely to know about their availability, since they're no more likely to download the comics apps than they are to visit a comic-book store.
In the brick-and-mortar world, releasing graphic novels and compilations in bookstores like Barnes & Noble has worked well; in the case of a graphic novel adaptation of a famous novel, like IDW's The Last Unicorn, the store positions the adaptation alongside the novel, cross-marketing the two properties to interested readers.
In the iBookstore, IDW hopes to do something similar. "If someone searches [for author] Anne Rice in iBooks," said Webber, "or [prose and comics author] Joe Hill, they'll get their books and these graphic novels." The 20 novels range in content and style, from franchises like Star Trek, Doctor Who, True Blood, and adaptations of video games like EA's Dragon Age and Dead Space, to recognizable comic collections like Joe Hill's Locke & Key, The Rocketeer, and Bloom County. Several of the novels have big-name prose writers attached: Orson Scott Card and Max Brooks have both contributed scripts, and two adaptations of writer James Patterson's works are in IDW's first round of releases.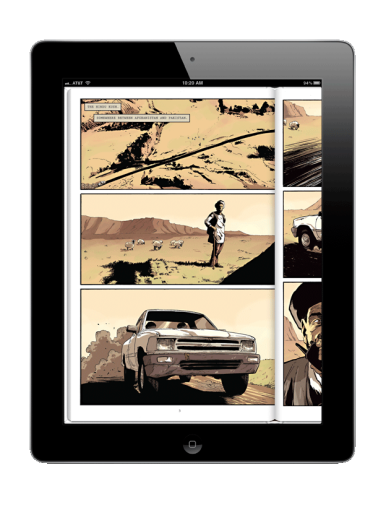 Some of IDW's releases, like the Rocketeer series, were originally released as single-issue comics; for the iBooks release, the issues have been bundled together for a more cohesive story. The company is also releasing a brand-new graphic novel based on the Bin Laden raid, Code Word: Geronimo, which is being published the same day as the print version.
These titles are some of the first comics to use the fixed-layout ePub format Apple's made available in the iBookstore. "The ePub format is very different than what we're able to put together [in an app]," said Webber. An app can provide more control, offering features like panel-to-panel zoom and auto-play. With the fixed-layout format, however, IDW has been able to work with the iBooks team to release the comics in a way that makes sense as an ebook.
Being one of the first to the fixed-layout scene, IDW has unsurprisingly endured a few bumps along the road—delays in the iBookstore approval process, for one. When asked to clarify, Webber made sure to emphasize that these were mostly technical hiccups—the result of publishing in a new format with a host of different reviewers for the company's titles—and had little to do with the actual content of the comics.
Within iBooks, the format closely resembles that of the IDW app's PDF display, adding animations for page-turning, bookmarking, and a chapter/page view. Readers can zoom and pan around a page using pinch and swipe gestures, though unfortunately iBooks has no support for automatic panel-to-panel zoom. This makes reading a comic slightly difficult on a smaller iOS device like an iPhone or iPod touch; in portrait mode on an iPad, however, the format shines. I rarely had to zoom in to follow along with the text, though the graphics are high-quality enough that if I did want to examine a panel more closely, I could do so without the image looking pixelated.
Interested readers can find IDW's first round of graphic novels, which range in price from $6 to $10, on the iBookstore. And this rollout is just the first step: IDW plans to release more compilations and graphic novels on the iBookstore in the near future.