Tiny Tower delivers an old-school gaming experience to the iPhone and iPad in every sense of the word "old-school." For starters, the free download from NimbleBit is a sim game much like the ones I would while away the hours with in the '90s. Then there's the game's look-and-feel—Tiny Tower's graphics are unabashedly 8-bit, lending the game a distinctive retro charm.
Like the sim games of old, you're in charge of assembling a virtual village, only in this instance, it's confined to an ever-expanding skyscraper. You build floors of residential housing to bring in tenants and then add floors with assorted businesses—retail, service, recreation, and the like—where your tenants can get jobs. In that sense, Tiny Tower is a paean to the glories of circulating cash flow: You collect money for rent and from businesses which you then turn around and spend on building more floors for your towering empire.
In addition to the coins you take in and spend, Tiny Tower offers another form of currency—Tower Bux. You can use these to speed up construction, restock your stores quicker, or perform other upgrades. You can earn Tower Bux in tips from your grateful Bitizens for placing them in dream jobs or performing other assorted tasks, or you can buy Tower Bux through the game's in-app purchase feature. You can certainly play Tiny Tower without spending a dime, but since Tower Bux can be converted to coins, you can expand with much greater alacrity if you flash some cash.
That becomes particularly true as the game progresses. The larger your tower grows, the more coins it costs to add a floor and the longer construction takes. Casual gamers may not mind—in fact, they may appreciate the ability to launch Tiny Tower every now and then, check up on the assorted goings-on, and move on to other things. The more impatient among us will have to load up on Tower Bux to make things happen. It's to Tiny Tower's credit that the game tries to accomodate different styles of play.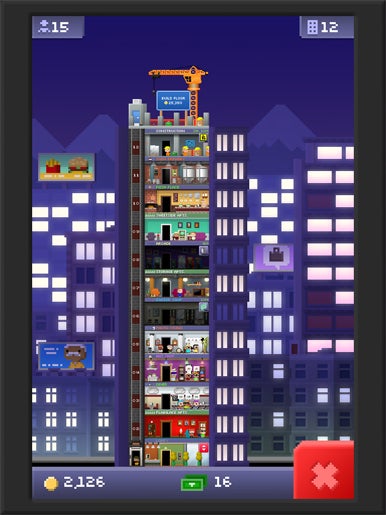 I also like that the clock keeps running in Tiny Tower even if you set down your iPhone or iPad to do other, inconsequential things like eat and sleep. That comes in handy when it's going to take your 8-bit construction crew another eight hours to finish that new floor. But this convenience proves to be a double-edged sword—the businesses in your tower can run out of inventory while you're away, meaning they can go several hours without bringing in any revenue. I wish Tiny Tower provided a better way to handle restocking for those times when your iOS device wasn't within reach.
I also wish the game provided a better way to match your progress against other Tiny Tower players. Yes, Tiny Tower features Game Center support, meaning you can see how your tower stacks up against ones being built by your friends. But that's small comfort if few of your Game Center pals play Tiny Tower. There doesn't appear to be a way to connect with a wider community of Tiny Tower players, and that can make you feel as if you're constructing your tower inside a vacuum.
Still, NimbleBit gets a lot more things right than wrong with TinyTower. From the appealing graphics to the catchy music to clever touches like a BitBook feature where your tenants post FaceBook-style status updates about their hopes and dreams, a lot of effort went into creating a very good iOS game. Sim fans will love Tiny Tower's take on the genre, while gamers who might not have embraced sim games in the past could find themselves drawn into this free-to-play offering's detailed world.
[Macworld.com editor Philip Michaels fancies himself the Donald Trump of Tiny Tower, only with a much more realistic haircut.]