Adobe has released new versions of Photoshop Elements and Premiere Elements, its consumer photo- and video-editing applications, respectively, aimed at imaging enthusiasts. Each program costs $100 and includes the companion Elements Organizer asset-management utility.
Overall, the updates to these imaging packages focus on boosting creative control, augmenting the applications' artistic capabilities, and giving the Organizer more searching and sharing depth and power.
Photoshop Elements 10—which marks the 10th anniversary of the program—features new guided edit routines, new smartbrush effects and filters, the ability to create text on a path, and new crop guides. Premiere Elements sports new goodies like a Pan & Zoom tool; new color-correction and -enhancement features; and the abilities to upload videos to YouTube and Facebook, share movies in AVCHD format, and save HD video to DVD.
The upgraded Organizer offers new visual, object, and duplicate search capabilities, in addition to enhanced social media sharing options.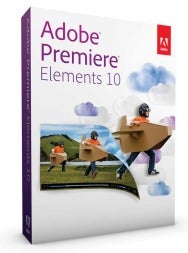 You can also subscribe to a related online service called Elements 10 Plus, which is available in the United States for $50 a year. It offers 20GB of storage space on Adobe's servers for automatic online backup. The subscription also makes available an exclusive library of artwork, templates, themes, effects, and additional instructional materials. There's a $10 discount for the first year if you purchase the service at the same time as either software package or the bundle.
Both programs work on Intel-based systems running Mac OS X 10.5 8 or later. Both applications run natively on 32-bit operating systems, and they run in 32-bit compatibility mode on 64-bit operating systems. An included API for Photoshop Elements lets developers create tablet and mobile applications that interact with that software.
Photoshop Elements
The image-editing component of the upgraded duo focuses on improvements in asset management, image editing, creative image use, and social media.
For example, Adobe has added some 30 new smart-brush effects and patterns that you can paint onto specific areas of your photos, such as Snow, Pencil Sketch, and Oil Pastel. New guided edits offer step-by-step instructions on techniques such as how to highlight your subject by simulating depth of field, how to add a diffuse glow to create a dreamlike Orton effect, or how to break up a photo into a collage of snapshots—called Picture Stack. New crop guides offer the Rule Of Thirds and Golden Ratio options to help users create interesting photographic compositions.
For a more artistic approach, Photoshop Elements now provides the ability to include curving, flowing text in your images. You can use text to outline shapes or objects, or simply follow a path you create. You can now save photos in PDF format for greater flexibility in printing, uploading, and sharing. New templates are also included for printed and online photos, albums, and scrapbooks.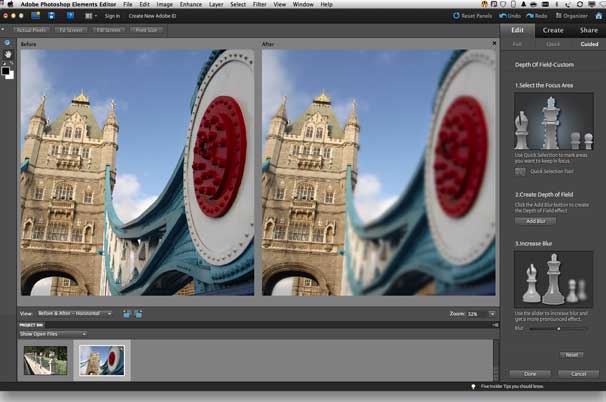 Premiere Elements
Premiere Elements 10 is hobbyist software designed to edit video from consumer cameras and camcorders. The new version introduces customized pan and zoom motions that let you create a Ken Burns-like effect, along with automated options that enable the program to find faces within your footage in order to pan and zoom directly to them.
New controls let you automatically adjust tone and vibrance in your footage without affecting skin tones, while sliders let you fine-tune color adjustments. You can now independently adjust colors in specific areas of your video, tweaking highlights, shadows, and midtones, to achieve the color you envision throughout your movie. In addition, you can export your movie in AVCHD format and burn Blu-ray–quality HD movies to standard DVD discs with standard burners.
Premiere Elements 10 also makes available SmartSound QuickTracks, a plug-in featuring a collection of soundtracks to use with your video. It automatically adjusts the soundtrack tempo to match the length of the movie. The upgrade also includes new InstantMovie themes.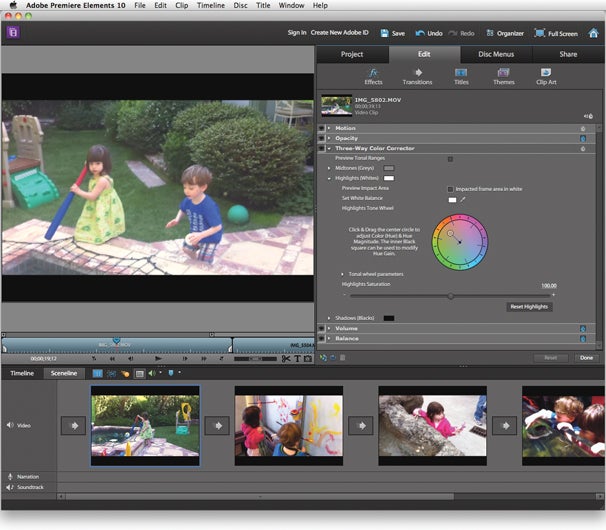 The Organizer
The Elements Organizer acts as a hub for all photo- and video-related saving, editing, and sharing. It integrates all assets and actions across the two programs. The Organizer, which lets you share stills and video on YouTube and Facebook, also lets you use your Facebook Friends list to tag faces in your photos. The management utility also sports new visual search capabilities. A new Object search function lets you look for images containing the same elements, such as a cat or a palm tree. Visual search finds still or video assets with similar content, shape, or color characteristics. A duplicate-photo function lets you locate and eliminate duplicates that consume valuable hard disk and online space.
The updated Organizer acts as an integrated hub for both photos and video, letting you search, view, manage, and share all assets.

Prices and availability
Both programs are available now on Adobe's website, and will be available shortly at retail outlets such as Adorama, Amazon.com, B&H, Best Buy, Buy.com, Dell, New Egg, Office Depot, Office Max, and Staples. Each program costs $100, with upgrades from the previous version costing $80.The bundle that includes both programs costs $150. Bundle upgrades are $120. A subscription to Photoshop Elements and Premiere Elements Plus is available in the U.S. only.
Adobe has posted additional information on its website about other language versions, as well as pricing, upgrade, and support policies. There are also free training videos for Photoshop Elements and Premiere Elements on Adobe TV. Education pricing for students, faculty, and staff in K-12 and higher education is available from Adobe Authorized Education Resellers and the Adobe Education Store. Adobe's website also has more information about education volume licensing for higher education and K-12 institutions.