Product launches at the IFA consumer electronics fair in Berlin are giving consumers an unprecedented choice of screen sizes. But analysts are questioning whether consumers can learn to love them all.
Vendors are trying to figure out what works when it comes to screen sizes, according to Geoff Blaber, analyst at CCS Insight.
One of the big product trends at IFA was screen sizes between 4.5 inches and 5.5 inches, which include the LTE version of Samsung Electronics' Galaxy S II, HTC's Windows Phone-based Titan, Samsung's Galaxy Note and the Tablet P from Sony, which has two 5-inch screens.
So far, consumers have shunned products with screens around this size, such as the Dell Streak. But vendors including Samsung and HTC are hoping larger screen sizes will help them differentiate their products in a very competitive market.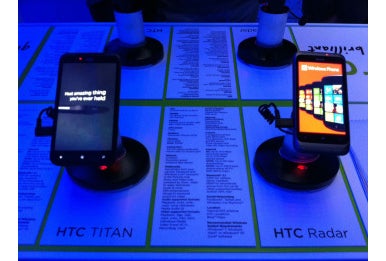 "Today's smartphones are pretty difficult to distinguish when it comes to the customer actually looking at them in stores. Increasing the screen is a clear example of manufacturers trying to differentiate rather than following the established product classes," said Blaber.
Even though it is not alone, Samsung is to a large extent the company pushing this size category. At the Galaxy Note product launch, the company said it wants to create a new product category between current smartphones and tablets, according to DJ Lee, head of global sales and marketing at Samsung Mobile.
The Note has a 5.3-inch display and an optional stylus that allows users to write on the screen in addition to operating it with their finger. Not everyone is as convinced as Samsung there is a demand for this.
"People are mostly happy with a phone of a reasonable size, 3.5 or 4 inches," said Bob O'Donnell, program vice president for Clients and Displays at IDC.
The introduction of smartphones with larger screens has many implications for users, according to Daniel Freeman, business design lead at Fjord, a company that has specialized in service design.
"If you look at it from the consumer side, there is battery life, the cost of these new big panels and the fact larger screens are more susceptible to breaking," said Freeman.
Also, not being able to put the phone in a pocket is a pain and users want to be able to hold the device to their ear without looking like an idiot, according to Freeman.
But increasing the screen size isn't all bad. It is better for media consumption, including video, browsing and reading e-books, according to Freeman. It also becomes easier to type on the virtual keyboard, which today is an issue for many people contemplating a smartphone purchase, he said.
When designing these new smartphones, vendors are helped by hardware developments that allow them to manufacture devices where the screen comes right to the edge of the device. For example, HTC's Titan, which has a 4.7-inch screen, maintains its integrity as a phone, albeit one suited to tablet-like functions such as browsing and watching videos, Ben Wood, director of research at CCS Insight, wrote in a research note.
Expectations that HTC's smartphone will be an uncompetitively large product similar to Dell's Streak are wrong, according to CCS Insight. The Titan weighs 160 grams, about 60 grams less than the 5-inch Streak.
In CCS Insight's view, the Titan will further erode the opportunity for tablets with 7-inch screens as the distinction between large smartphones and small tablets blurs, Wood said.
Pushing the screen right to the edge of a smartphone may allow vendors to keep the size of the device down, but from a usability standpoint it isn't ideal: "The closer the screen gets to the edge of the device, the more you find that your fingers, that are holding the device, are interrupting the screen experience," said Freeman.
The consensus, at least among these analysts, is that smartphone screen sizes have reached their useful maximum at about 4.5 to 4.7 inches.