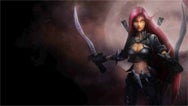 News of a Mac version of League of Legends has been floating around for a very long time now. A beta client and servers have been up and running, too—but it seems that Riot has decided to close down the Mac side of operations indefinitely. This is apparently due to not being able to "guarantee the quality and frequent updates we deliver today on the PC and are expected by our player community" for Mac players.
There is still a long term plan in place to make the game playable by Mac owners without using Boot Camp, but for the immediate future the Mac client won't allow players to connect to the game and play.
Disgruntled Mac users upset by this decision should get hold of a copy of Windows and install Boot Camp on their machine if they wish to continue playing for the moment. However, it's not all bad news: every player who has a "majority" of logins from the Mac client who logs on before the end of today will get a Champions Pack for free.
Find out more in this forum thread.
[Hat Tip: TUAW.]