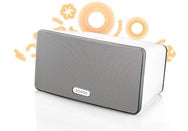 Lion users who found that they could no longer stream music to their Sonos speakers after upgrading from Snow Leopard are in luck: As promised, the company has released an update to its Sonos Controller app that corrects the issue; choose Check for Updates from the Sonos menu to get the latest version.
Back in July, Sonos wrote on its official blog:
At Sonos, one of our goals is to to provide you with uninterrupted access to all the music on earth. Earlier this week, we failed to deliver on this goal for many of our Mac OS X customers. We realize that our communication on the issue was tardy and did not provide the exemplary customer service we strive to provide. We're incredibly sorry for any inconvenience our error caused.
The company said that "a file-sharing bug that is inherent to the OS" caused the extended delay in releasing the software update, which, at the time, it said would be available "in the next few weeks." In a since-removed forum post, Sonos explained that Lion employs a new, proprietary implementation of the SMB protocol, not the open-source Samba implementation that Sonos previously relied upon.
The update is free, and of course recommended for all Sonos customers running Lion.