When the latest version QuickBooks for the Mac arrives on retail shelves later this month, some users may look to see how this release stacks up to its Windows counterpart. That would be a mistake, says Pranay Kapadia, group product manager of QuickBooks for Mac and Mobile.
"It's not about feature parity," Kapadia says of QuickBooks for Mac 2012, which will be unveiled Wednesday. "It's about doing the things our users are asking for [correctly]."
That message may not be well received by some in the Mac community, who have bristled about disparities between the Mac and Windows versions of the accounting and business finance application since QuickBooks's 2002 return to the Mac platform after a prolonged absence. But Intuit believes the Mac and Windows versions of QuickBooks serve different audiences, so it's emphasizing features in the Mac version that it believes addresses the needs of those users.
"We're optimizing our resources by solving for the user base we have," Kapadia told Macworld.
To that end, Intuit is touting more than 50 new features and enhancements in the 2012 edition of QuickBooks for the Mac, with a special emphasis on features that let users access data more quickly while also simplifying multi-step tasks.
"All of this boils down to saving businesses time and letting them get back to doing the things they do," Kapadia said.
In the case of Intuit's Mac-using QuickBooks customers, that business tends to be in the services industry. According to Intuit's research, more than half of QuickBooks for Mac users are running a service-based business; that contrasts to the Windows side, where customers are more evenly divided between products and services.
What's more, QuickBooks for Mac users tend to be running smaller operations than their Windows counterparts. Intuit says that 90 percent of the businesses using QuickBooks for Mac have five employees or fewer—60-percent are one-employee operations. Kapadia says that's the audience Intuit has in mind when it looks to "deliver an experience that Mac users expect… a smaller, service-based solution that just works for them."
Focus on time-savers
That seems to be one of the main motivations behind Intuit's push to give QuickBooks users faster access to their data. The latest version adds history panels for customers and vendors, for example, to provide easy-to-browse information on details like open balances and notes. That data appears alongside invoices, QuickBook for Mac product manager Will Lynes says, so users "don't have to go to a separate area" to look up critical information about customers."
Similarly, a new transaction list displays summary level info of forms that users can browse and sort by date, customer name, or other criteria, as they enter invoices, expenses, and receipts. The transaction list makes it easier to enter in such data without having to search through past transactions one at a time. (Lynes says the transaction list was inspired by OS X's Mail 5, as was the new standard Mac toolbar added in the latest version of QuickBooks.)
When users do have to search, they'll have an experience that's more similar to OS X's Spotlight search tool. Type in a keyword, and within a few seconds, QuickBooks 2012 brings up a list of results. Users are able to apply filters to further pare down results; they can also save search results for future reference á la Spotlight's Smart Search feature.
"It's a real time-saver," Lynes says of QuickBooks's improved search capabilities. "A few seconds here and there can really add up."
Intuit also thinks it can save QuickBooks 2012 users time by simplifying multi-step tasks. Take the existing online banking feature. In prior versions, users had to add downloaded transactions one at a time. This update adds a batch entry feature that lets users import multiple transactions all at once. Users can also create rules that match the payees downloaded from online banking accounts to names they've got stored in QuickBooks for even faster entry. Lynes says the batch entry capabilities in QuickBooks 2012 draw on the expertise Intuit gained from its 2009 purchase of Mint.com.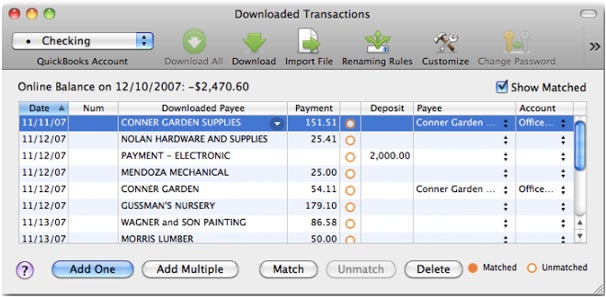 QuickBooks for Mac 2012 also introduces a progress invoicing feature. Previously, creating an invoice that would bill for a project over time required multiple steps and forced users to do a lot of the calculations on their own. Progress invoicing is designed to let users create multiple invoices from a single estimate, with the ability to invoice by line item or by a percentage of the estimate.
Other enhancements
As with past releases, the 2012 QuickBooks update includes capabilities aimed at helping new users get started with the accounting program. Previous tools such as Guide Me—which walks users through the program without a lot of accounting jargon—and the QuickBook-focused blog Little Square return in the new release. A new Getting Started Right feature offers an hour of phone support with a QuickBooks expert.
Other enhancements slated for QuickBooks for Mac 2012 include more shortcuts and contextual menus plus a new reconcile feature for converting data between the Mac and Windows versions of QuickBooks. The Mac version now lets users set default bank accounts for key banking tasks, and users can duplicate timesheets for an employee to spare themselves the trouble of having to create an entirely new timesheet. The update also promises table improvements, such as adjustable columns and multi-line descriptions, and the addition of next and previous buttons, auto-number, and auto-fill to journal entries.
QuickBooks for Mac 2012 runs on Mac OS X 10.6.7 or later, including Lion. You need an Intel-based Mac, with a Core 2 Duo processor or higher recommended. (Note that a Core 2 Duo chip is necessary to run the server component of QuickBooks's multiuser functionality.) The software costs $230. Intuit offers two- and three-user licenses for $440 and $600 respectively; additional seats cost $210 each.
The new version will be available Sept. 26 directly through Intuit. Two weeks later, QuickBooks for Mac 2012 is slated to go on sale through Apple as well as Amazon, Best Buy, Costco.com, Fry's, MacZones, Office Depot, OfficeMax, and Staples.