Jennifer Landefelds's Agendas is a tremendous idea with amazing potential: An iPad-based tool for creating interactive meeting agendas, which not only can give your audience an easy way to keep up to speed with your presentation, but offers a beautiful looking agenda and gives meeting attendees the ability to interact with the moderator by asking questions. While the idea behind Agendas is brilliant, the app itself isn't fleshed out enough yet to make it truly useful.
The concept behind Agendas is pretty clever. You use the Agendas app on your iPad to create a meeting agenda, set a time limit for each segment, and then add agenda items that can include photos, text, and even polls. When you've finished creating your agenda you use the Agendas app on your iPad to publish the agenda so that it is available to everyone on your Wi-Fi network. Once published attendees use the app on their iPads to view the agenda, answer poll questions, and post questions for the moderator to answer. Your attendees can take notes within the app as the meeting goes along and when the meeting is over, their copy of Agendas will keep a copy of your agenda with the notes they've created.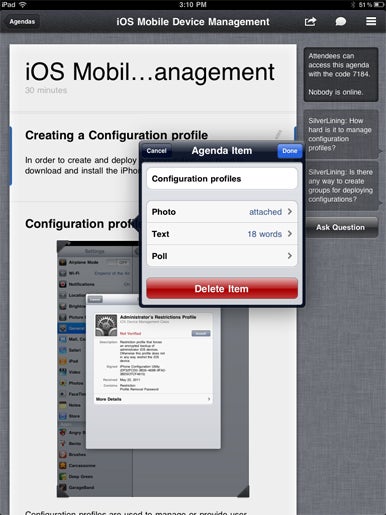 While this all sounds fantastic, after a few minutes of use, Agenda's limitations become pretty obvious. First, you have no control over where or how your content appears on an agenda. For example, while you can add photos, text, and polls to each new agenda item, photos always appear first, text second, and polls are always at the end. What's more, images can't be resized and you are unable to change any of the font formatting. None of these issues is a deal killer, but offering better formatting options would would make Agendas a much better app.
Agenda's biggest issue is a practical one: it requires everyone in your meeting to have an iPad and buy a $10 app. That's a nice idea, especially if you're on the business end of a $10 app purchase, but the reality is that most people in a meeting aren't going to have an iPad and those that do probably won't be willing to fork over a ten-spot just so they can view your agenda. To make the app more useful, the developer needs to consider putting a free Agendas reader on the App Store—an app that will allow attendees to take notes but not create new Agendas (and, possibly, offer up some kind of web browser-based interface that will allow those without an iPad to at least view the Agenda that a moderator has created).
Agendas is an interesting app that has a great deal of potential, but better formatting tools and features that make published agendas available to a broader range of meeting attendees are necessary before it can become a truly useful app.
[Jeffery Battersby is a regular contributor to Macworld. Get more Jeff than you want on the Revenge of the Fanboy! podcast and at his blog.]