If you ever attend a Civil War battle re-enactment, iPads probably won't be much in evidence. Participants like to keep it authentic to the time period by sleeping in shoddy tents, dressing in overly warm uniforms and drinking from tin cups. That's too bad, because a Yankee soldier armed with the $8 The Civil War Today app from A&E Television Networks might find a lot to love.
Open up the app, and you're greeted with the top war headlines from the same date 150 years ago. (You can skip back or forward in time.) Also featured: A "quote of the day" from a notable Civil War personage, photos, diary entries, maps, and quizzes. You can even view scanned copies of newspapers from the time period, and share most of what you find in the app via email, Twitter, or Facebook. A&E Networks also promises to provide related videos—complete with Airplay integration for viewing on your TV—but that content wasn't readily apparent during my time with the app.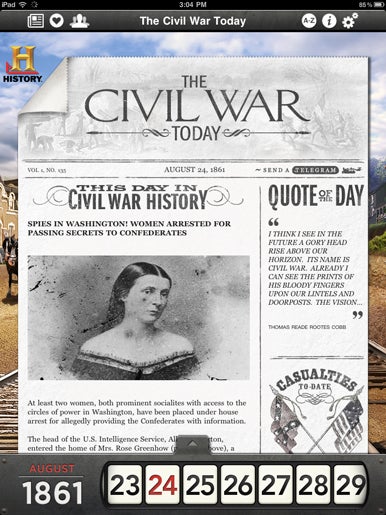 Is all this worth $8? That's the kind of price charged by apps that provide either extraordinary capabilities or extraordinary depth of information. The Civil War Today is a nice app, but it doesn't perform to that level. If it were a textbook—and it's easy to see this app finding a place in the classroom—it would fit best at the junior-high level. (It is rated 9+ for "Infrequent/Mild Realistic Violence.")
Price aside, The Civil War today is informative and even entertaining. History buffs will find much to enjoy.
[Joel Mathis is a freelance journalist and political columnist for Scripps Howard News Service. He lives in Philadelphia.]