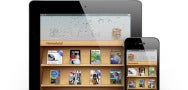 Adobe has announced that its Digital Publishing Suite will support the Newsstand feature in iOS.
Digital Publishing Suite is a set of hosted software services and viewer technology that allow large publishers to create, distribute, monetise and analyse digital magazines, newspapers and publications; it was launched early in 2011.
"Publishers will be able to use Adobe Digital Publishing Suite to create magazine and newspaper applications that appear in the Apple Newsstand section of the iTunes App Store and the Newsstand folder on the iPad," Adobe said in a statement.
Significantly, it will conform with Apple's subscription policies that require subscription-based app publishers to turn over 30 percent of revenue generated by subs bought from within apps or digital publications on iOS devices.
Newsstand is one of the major new features slated for iOS 5. Unveiled this past June, Newsstand will be a devoted app for accessing and downloading periodicals. Apple plans to release iOS 5 this fall.
In May, Adobe re-jigged the pricing structure for Digital Publishing Suite based on market feedback.