This past weekend—a holiday weekend here in the U.S.—my family had a packed schedule, so we opted for take-out on two different evenings. Rather than call in our orders, I decided to try take-out-ordering apps from a couple well-known chains, Baja Fresh and Five Guys. As with most restaurant apps, the idea behind these is that, rather than trying to browse the restaurant's website while placing an order by telephone, you can launch an easy-to-use app, choose your items right from the menu, and then place your order without ever having to talk to a person. And hopefully, by letting you input your own order, you can avoid mistakes—at least the ones caused by a bad connection or background noise on either end of the phone call. In practice, however, only one of the two apps fulfilled its potential. The other actually drove me back to the telephone.
In the mood for some relatively healthy Mexican food, we tried the Baja Fresh app, for the chain of "fresh"-focused restaurants. Launch the iPhone/iPod touch app, and you're prompted to Find Nearby Restaurants (based on your phone's location), enter a zipcode to find restaurants in that area, or view previous orders. (Like most restaurant apps, you need to set up an account before you can place an order or view previous orders.)
That's where the problems started for me. The closest Baja Fresh restaurant, just a few miles away in Cupertino, Calif., wasn't listed. (Perhaps it doesn't participate in the app-ordering service? Whatever the case, its omission makes the app confusing and less useful.) Since we were headed towards Palo Alto, I instead chose a Palo Alto location, which, according to the app, was about 5.5 miles away. Choosing a restaurant displays its address and phone number. You can tap the phone number to call the location, or tap View Map to view its location on a map, but the latter option quits the Baja Fresh app and switches to the iPhone's Maps app. This would be fine except that whenever you switch out of the Baja Fresh app, you must start over the next time you launch it—it doesn't remember where you were in the ordering process. Saved app states were introduced with iOS 4.0, Baja Fresh.
I should also point out that the app frequently suffered from connectivity issues: Despite the fact that I had allowed the Baja Fresh app to use my location, it often claimed "Location Unavailable," so I had to enter a zip code each time. And while using the app, I frequently received errors that the app couldn't proceed because my phone wasn't connected to the Internet, even though it clearly was.
The Baja Fresh apps' menu is split across a number of category screens. You use a pop-up menu to choose the category: Burritos; Salads and Soup; Quesadillas, etc.; Tacos; Kids' Faves; Sides; Beverages; Value Meals; Party Packs; or Desserts. Each page lists the items in that category, along with the price and a short description for each item. Tap an item to view its options—for example, if you want to omit sour cream. Once you've "configured" your item, you tap Add To Order.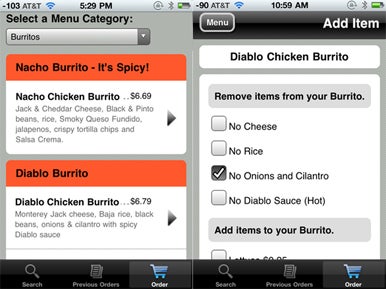 The capability to customize each dish is a welcome option. However, if you're browsing the menu to find something that looks good, there's no back button. No matter how deep you go into the menu hierarchy—for example, if you tap Kids' Faves, then Kids' Meal Mini Cheese Quesadilla to view the options for that meal—there's only a Menu button, which takes you all the way back to the top level of the menu. You're not even taken to the top level of the category you were browsing—it always comes back to Burritos. (Insert joke about takeout Mexican-food here.)
Similarly, if you want to order more than one of a single item, there's no simple way to do so—you must navigate down the menu hierarchy to choose and configure the item multiple times. Given how many categories the menu is broken into, this browsing quickly gets frustrating. It also doesn't help that it isn't always obvious where to find a particular menu item. Looking for Fajitas? Nachos? Taquitos? Those are listed under Quesadillas. Want a Baja Bowl (essentially a salad in a tortilla bowl)? Check under Burritos.
There's a Search button at the bottom of the screen, but if you're expecting it to let you search the menu, you'll be disappointed. It simply takes you back to the nearby-restaurants screen to let you choose a different location.
Once you're ready to place your order, you tap the View Order button. (If you've just added an item to your order, you'll already be on the order screen.) There, you review your order, then tap Check Out. If you haven't added any drinks, you'll be asked if you'd like to, then you proceed to the Pick Up options.
This is where I eventually gave up on the app. Before you can place your order, you must choose a pick-up date and time. As I was only about 15 minutes away from the chosen restaurant, I tried to set the pick-up time for 15 minutes from my order time. But the app refuses to let you choose a time less than 30 minutes into the future, despite the fact that if I'd walked into the chosen restaurant and ordered, the food would be ready in five minutes. So instead of ordering through the app, I went back to the restaurant-location screen, tapped the phone number for the chosen Baja Fresh store, and placed my order over the phone. The person who took my order said it would be ready in 10 minutes. Even better, he informed me that since we had ordered "adult" entrees, if we ordered any size drink, the kid's meals would be free. In other words, we got more food and saved money by calling the restaurant and ordering the old-fashioned way.
Needless to say, I won't be using the Baja Fresh app again anytime soon.
The Five Guys Burgers & Fries app for ordering from the ever-expanding burger chain is good in all the ways the Baja Fresh app is bad. Launch the app and give it permission to use your location, and you're immediately presented with a list of nearby restaurants, closest first. (As with the Baja Fresh app, you'll need to create an account the first time you use the Five Guys app.) If you want to find a restaurant in a different location, just type in the zip code and tap the search button.
Tap a restaurant, and you see a page displaying the restaurant's address, hours, and distance from your current location, as well as a Google Maps map of the store's location. (The app is optimized for both the iPhone and the iPad, so it takes good advantage of the tablet's larger screen here.) Tap Directions To This Store to switch to the Maps app and get directions—with the starting and ending locations automatically filled for you—or tap Order From This Store to start the order process. Unlike with the Baja Fresh app, if you do decide to switch to the Maps app, or to quit the Five Guys app for any other reason, you'll be right where you left off when you come back.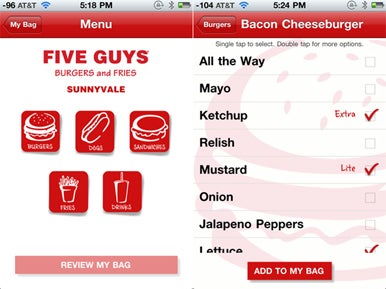 Before you choose your items, the app asks if you want to pick up your order now or later. (Now places your order for immediate pickup; later lets you choose a date and time.) You're then taken to the Menu page, which groups all menu items into five simple categories: Burgers, Dogs, Sandwiches, Fries, and Drinks. Tap a category to see a simple list of items in that category, along with the price of each. Granted, Five Guys offers far fewer menu items than Baja Fresh, and most of those items don't require a lengthy description, but the Five Guys menu is much easier to navigate, and the app itself is much faster to load screens and perform actions.
Like the Baja Fresh app, the Five Guys app lets you customize most menu items. Choose a burger, hot dog, or other sandwich, and the next screen lists the myriad toppings and condiments you can opt for. Tap an extra, such as Grilled Onions, to add it, or double-tap for more options: Regular, Lite, or Extra. The menus screens for drinks and fries let you easily order any combination of drinks or french-fry styles and sizes using helpful more (+) and fewer (-) buttons. When you're done configuring any sandwich, your drinks, or your fries, tap Add To My Bag, which takes you back to the main menu-category page.
The bottom of that menu page always provides a Review My Bag button that also displays the current total for your order and, when tapped, takes you to the ordering page. If you haven't added any fries, the app prompts you to do so. (If this prompt annoys you, just tap Never Ask Again.) After reviewing your order, tap Place Your Order, and the app uses the credit card you provided with your account to make the purchase. The process is simple and straightforward—I never had to wonder if I was doing the right thing or how to go back to the previous screen or the main Menu page.
As someone whose take-out orders are regularly screwed up, just as pleasing is what happens after you place your order: You get an easy-to-read summary—both within the app and via email—that lists your entire order in precise detail, along with the pickup time, the restaurant and feedback phone numbers, and a link to an online feedback form. Indeed, when we showed up at the restaurant at the specified time, we walked up to the pickup counter, grabbed our ready-and-waiting bag, and left; everything was exactly as we ordered it. (Another nice touch: On the outside of the bag is a receipt with each sandwich numbered; those numbers correspond to numbers on the wrapper for each sandwich, making it easy to figure out whose is whose.)
The Five Guys app also offers a few nice extras. When reviewing your order, you can tap the plus (+) button next to any item to add another just like it. And after placing your order, the app asks if you'd like to create a favorite—which includes both the chosen restaurant and the items in your bag—for that order, making it easy to repeat that order in the future. (To do so, you just tap Favorites on the opening screen of the app, and then tap a favorite order; you're asked the now-or-later question, and then your bag is filled and ready for checkout. You can even modify the items if you like.) My only beef here is that I wish you could create favorite items—say, your favorite cheeseburger configuration—that you could add to any order.
Sadly, from what I've seen, most take-out apps are closer in quality and experience to the Baja Fresh app than to the Five Guys app. So let me make a humble suggestion to restauranteurs: If you're considering making an iOS app for ordering on the go, download the Five Guys app and try it out. And then copy it as closely as possible. Take-out eaters everywhere will thank you.
[Dan Frakes is a senior editor at Macworld.]