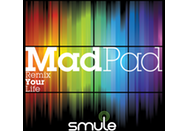 To date, Smule's helped you use your iPad and iPhone as instruments ( Ocarina, Leaf Trombone, Magic Piano), an auto-correcting microphone ( I Am T-Pain), and a karaoke machine ( Glee). With Thursday's release of MadPad for iPhone (and MadPad HD for iPad), the music-app-focused company creates a new genre: It helps you capture real world noise and turn those sounds into music.
You create soundboards with MadPad by using your iOS device's built-in microphone and camera. Each pad gets twelve different sounds; you tap record, and then MadPad automatically starts and stops the recording based on the sounds you generate. I created sound sets using my own mouth as well as inanimate objects around my office—the sound recording process takes maybe two minutes.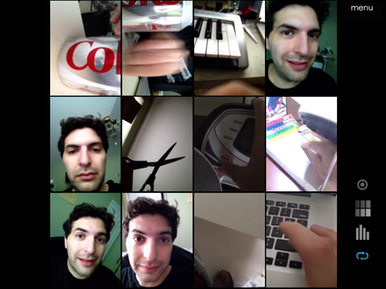 Once you're content with your twelve sounds, you can start creating masterpieces with your recordings. Tapping with a single finger plays back your sound (and its accompanying video clip). Tapping and dragging with two fingers tweaks the pitch of the playback up or down. And you can get fancy, if you'd like to unleash your true inner DJ: The app includes a powerful looping feature, and you can adjust the pitch and volume of individual sounds, too.
Once you're content with your sound board, you can, of course, create recordings of your genius at work, and then export them to YouTube or save them to your device's library. MadPad also lets you share your boards with other users of the app, and you can in turn sample other folks' shared boards as well. The app also includes 50 sets of its own to explore, ranging from random objects to actual musical instruments.
MadPad for the iPhone costs $1; the iPad edition costs $3. A video of yours truly demonstrating his penchant for sound effects and lack of rhythm is included for your enjoyment or horror below: