This article originally appeared as a Macworld Daily Reader iPad exclusive and is now available on Macworld.com for your enjoyment.
Despite iPhoto's outward simplicity, you can do quite a lot with the application—if you know where to look. Many advanced options hide away in the confines of the iPhoto menu bar, while others can be accessed through certain key combinations. Here are just a few of the best ones.
Folder hierarchy If you have several albums that could conceivably fit together, you can create a folder for them by going to File -> New -> Folder. Once you've created and named the folder, just drag and drop the albums you want organized on top of it (see "Top-Level Groups").

Give it a star To highlight your best photos, consider giving them a star rating. You can do so by highlighting an image and opening the Info pane, then selecting the number of stars you'd like to assign. Once you've rated everything, consider grouping them together using a smart album so you can easily show off only your best images.
Export a video slideshow If you want to build a complicated slideshow, iMovie is a great tool. But what if you just want a quick video? Select an event or album and mouse over to File -> Export -> Slideshow, and you can have iPhoto encode a quick slideshow in any number of formats. The export steals both music and transition settings from the built-in Slideshow option, so if you'd like to customize those, click the Slideshow button on the bottom toolbar before exporting.
Browse backups If you're using Apple's Time Machine software to regularly back up your computer, you can search through your iPhoto library backups from within the app itself. Just go to File -> Browse Backups to launch the customized viewer. Note that while this works in Snow Leopard, it does not apply to Lion. According to Apple, when using iPhoto '11 (version 9.2 or later) and Time Machine with OS X Lion 10.7.2 (or later), iPhoto no longer has the Browse Backups option. So instead of restoring specific photos within your iPhoto Library, you must restore your entire iPhoto Library.
Change the date You can't directly edit a photo's date and time from the Info panel, unlike its title or description. However, you can still change this information by selecting Photos -> Adjust Date And Time (see "Back to the Future"). The panel will show you the original photo information, what you've adjusted it to, and whether you'd like to modify the original file (so that any new copies will retain this date). Need to adjust multiple photos at once? If you're time-shifting them all to the same date, you can just select the ones you'd like to change.

Edit multiple photos at once Need to fix the title, description, or date of several photos at once? Use iPhoto's built-in Batch Change, found under Photos -> Batch Change. As with Adjust Date And Time, you can choose to modify just iPhoto's copy of the image, or the metadata from the original files as well.
Hide embarrassing photos Whether your picture didn't come out quite right or you just want to temporarily remove an image from view, iPhoto's Hide option allows you to banish any unworthy photo from your library. Just select the photo you wish to remove, and go to Photos -> Hide Photo. You'll also want to make sure that in the View menu, the Hidden Photos option is unchecked—otherwise, your hidden images will still show up, albeit with a big orange X on their upper right corners.
Duplicate a photo Want to do something crazy to an image while retaining the original in your library? You can duplicate any photo by highlighting it and going to Photos -> Duplicate (or by using the keyboard shortcut Command-D).
Burn CDs and send photos to the web It's easy to post images to a social network using iPhoto, but did you know you can also burn them to a disk, send a slideshow to iDVD, set them as your desktop picture, or use them in an iWeb layout? Just go to the Share menu in the toolbar and select any one of those options to start the process.
Faces
Thanks to its face-recognition tool, iPhoto can put names to the faces in your photographs, letting you quickly sift through your library based on content rather than how photos are arranged. But putting this feature to work requires some effort on your part. When you first upload a batch of new photos, iPhoto will begin to detect where any faces might be. If the application doesn't automatically start searching for faces, you can force it to search by going to Photos -> Detect Missing Faces.
Once iPhoto is finished, you can start assigning names to detected faces (see "What's in a Name?"). Select a photo in your library that contains a face and open the Info pane. If there are any unnamed faces, little boxes will pop up indicating that; you can add names by filling in the boxes.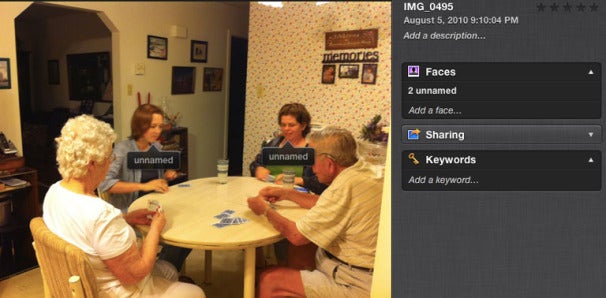 As you start to type, the application will suggest matches from your address book or from other faces you've named. If there are faces iPhoto missed, you can also add a face by clicking the Add A Face button in the Info panel; if it accidentally identified a nonexistent face, you can correct it and delete the face (see "Xed Out").

Once you've assigned names to a few faces, the fun starts. iPhoto will learn from your input and try to put names to faces on its own. To help it along, click Faces in the Source list. You'll get a corkboard with entries for every person you've identified. Double-click a person's name, and you'll be asked to confirm or reject photos that iPhoto suspects may be the same human being. One click will confirm the photo as being that person; Option-click to reject the guess. Each time you confirm a correct instance or reject a wrong guess, the application gets a little smarter.
Become a faces master Using smart albums, you can label and organize your faces with even more precision and speed.
You can quickly create a smart album for an individual by dragging the person's thumbnail from the Faces corkboard to the Library pane. iPhoto will then build a new album using all photos tagged with his or her name. To build a smart album that searches for multiple people, Command-click each face on the Faces corkboard and drag those images to the Library pane. You can modify the album further if you wish by Control-clicking on it and choosing Edit Smart Album.
To build a smart album that finds photos of multiple people in the same picture, select File -> New Smart Album. If you were looking to collect pictures of your cousin Jimmy and his family, you'd want to set the first condition to Face Is Jimmy; to add Jimmy's wife and kids, click the plus (+) sign and create a similar condition for each person. Make sure you choose Match All to get the collection you want. (If you choose Match Any, you'll get images of any member of the family.)
Places
iPhoto's Places feature takes advantage of GPS data—longitude and latitude coordinates embedded in a photo's metadata. Once the application knows where your pictures originated, you can use the information to quickly track down shots from a specific locale or show off your travels to friends.
If you've been geotagging your images using GPS hardware built into a camera, a memory card, or an iPhone, iPhoto reads that data automatically. But for folks who haven't invested in geotagging hardware, the true beauty of Places is that it lets you quickly add location data to pictures already in your library.
Add locations To add GPS data to a single photo, select it and open the Info panel. If the image has no location data, you'll see Assign A Place near the bottom of the panel. Click the text to start typing in the picture's location—it's usually helpful to start with the city, state, and country where it was captured. Using Google Maps, iPhoto will offer at least one location in the list below the search field; click the suggestion, and the application will display a miniature map with a red pin stuck in it (see "If the Map Fits"). If the pin's not exactly in the right location, you can click and drag it as necessary to refine its position.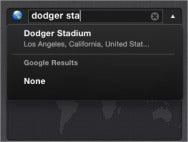 You're not limited to tagging one photo at a time. To tag multiple images, Shift- or Command-click the photos you want, then—with the Info pane open—click Assign A Place to add your location.
You can even tag an entire event in one go—or multiple events, to really speed things up. Click the Events icon in the Library pane (or Shift-click to select multiple events) and then click the Info button in the bottom toolbar. When you're done entering GPS data, iPhoto will add the location data to all of the included images.
Use GPS data You can reap the benefits of your geotagging efforts in many ways. Not only can you customize your searches and create smart albums using names of places, but you can also see just where you've been using the Places view. When you click Places in the Source list, you'll see a Google Maps–rendered view of the world, with little red pins stuck where you've taken geotagged photos. Click a pin to see the city it represents; click the right arrow to go to a list of all the photos in that section.
You can sort and automatically zoom to the places you've taken pictures in by using the navigational drop-down menus at the top of the pane; you can sort by country, state, city, and individual place. You can also zoom in manually on a place by using the Zoom slider in the bottom toolbar or by pinching in and out with two fingers (if you have a trackpad that is enabled for multitouch gestures). At any time, you can create a smart album of your criteria by clicking Smart Album in the bottom toolbar, or see all the photos in a certain region by clicking Show Photos.
If the GPS data is wrong, you can't drag these pins to correct it on the main Places map; instead, you'll want to click the pin, click the arrow to the right of the text, and adjust the pin manually in the Info pane by clicking on the Places section. You can also do this for places you've added manually by going to Window -> Manage My Places.
This article was updated on 11/16 at 2:15 p.m. to clarify the Browse Backup feature.