You can bring pictures into iPhoto one of three ways: from an external source (a camera or memory card), an internal source (off a hard drive or CD), or from an RSS photo feed. To import photos from your camera roll, you need only plug your camera or memory card into your computer and open iPhoto. When connected, it will show up in the Source list—the leftmost column in the application—under Devices. Click the camera or memory card name to bring up the Import pane (see "Preview Your Imports").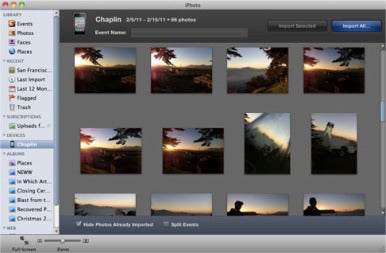 To keep your library from getting messy early on, iPhoto provides two extra import options at the bottom of the Import pane. If you've already imported some images from your camera and wish to avoid unnecessary duplication, you can select the Hide Photos Already Imported checkbox. (Even if you don't select this, iPhoto will still prompt you if it detects duplicates during the import process.) Alternatively, if you have multiple days' worth of photos and would rather break them up and organize them by day, you can choose the Split Events checkbox.
Within the pane, you'll see a summary of your device, including its name—if it has one—as well as a date range of when your photos were taken and how many pictures and video files you have stored on it. Below this, you'll also be able to browse image thumbnails. By default, these images are relatively tiny—allowing you to see four or five on a row—but you can use the Zoom slider in the lower left corner of the window to increase the preview size.
Ready to import? You can choose to upload the entire contents of your camera or memory card, or just select specific images. To make organization easier, you can give the collection of pictures an initial name under Event Name before importing them; otherwise, they'll just be inserted into your library labeled by date range.
To import the entire set of photos, click the blue Import All button; to import selected photos, simply highlight the pictures you'd like to import, then click the black Import Selected button. If you need to stop this process at any time, click the Stop Import button in the window's upper right corner.
Once the import is successful, iPhoto will prompt you with a dialog box asking if you'd like to erase your camera or card. If you're importing a photo from an internal source—such as your hard drive or a CD—you can bring the pictures into iPhoto by either dragging them from the desktop onto the iPhoto icon in the Dock, or selecting File -> Import To Library within iPhoto itself (see "Mousing Around").
Alternatively, you can add photos from RSS feeds—for instance, a friend's Flickr feed—by selecting File -> Subscribe To Photo Feed in iPhoto. Paste in the feed URL, and the application will automatically retrieve the last 20 or so photos available. You can import any of these pictures to your library by dragging them into Events or Photos. You can view your imported pictures by clicking Last Import under the Source list, or by browsing your created events under Events.