Notifications have become a mainstay of modern computing. While people routinely only perform a single task, our computers continually juggle many, so knowing when our devices have carried out some job in the background has become a critical piece of data. While a notification makeover is a marquee feature of the soon-to-be-released iOS 5, Mac users have had their own notification platform for more than five years in the form of the open-source software Growl.
Growl 1.3, released Monday, boasts a number of changes, including new features and new rules for development. But its most significant change may be the fact the utility is now available from the Mac App Store—and only the Mac App Store.
What's in store
That change of venue required some shifts. For example, rather than visit System Preferences to adjust Growl's settings, as with earlier versions, you now simply launch the new Growl app. The Growl Project hopes this will, at least, partially solve the problem of confusing update reminders. All updates will instead be pushed through the Mac App Store's own mechanism.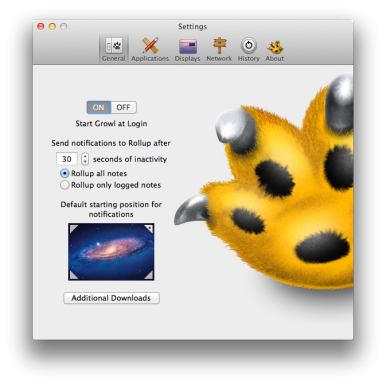 Joining Apple's online store has also opened an avenue to sustained development of the product. The end-user edition of the software will be sold through the store for $2. "The general idea here is that we'll be able to fund Growl development going forward," said Growl project lead Christopher Forsythe. "The general conclusion we came to is that we need to fund development going forward or that Growl would likely stop being developed altogether."
There are less tangible benefits as well. The Mac App Store is a way for Growl to showcase its compliance with Lion's new sandboxing security technology, and, of course, the vetting process for being in the store in the first place. Both will help potential users understand that Growl is a safe application with explicit approval from Apple.
But Growl's presence in the store isn't a death knell for the software as an open-source project. "Growl is definitely still open source," Forsythe told Macworld in an interview prior to Monday's release of Growl 1.3. "Currently our [software repository] is locked down but once 1.3 is out, we'll open it up." Despite the end product only being available through the Mac App Store, independent users will still be able to download and compile the source code from Growl's site, as per the terms of Growl's BSD license.
Feature presentation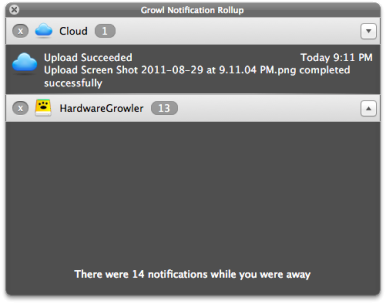 Of course, its appearance in the Mac App Store isn't the only change in Growl 1.3. Like iOS notifications, Growl gets a makeover; it even has its own version of iOS 5's Notification Center in the new Rollup feature. "[Rollup] will display messages that came in while you were away," Forsythe said. "Everyone who uses Growl will love this in my opinion."
Rollup also paved the way for another feature: a History log, much like what you'd find in many browsers. By visiting Growl's History pane, one can revisit notifications that happened five minutes or five days ago, complete with the ability to search if they're looking for something in particular. These can be especially handy for folks who have a lot of notifications, helping solve the problem of seeing a pop-up out of the corner of your eye, only to have it vanish forever.
A framework job
However, this new delivery method also means that applications that previously installed Growl as a part of their own installation process (such as Dropbox, some HP drivers, and Adobe Creative Suite 5) will no longer be able to do so with the latest version. On the upside, this solves the other portion of the aforementioned update-reminder annoyance.
Once developers have integrated the latest version of Growl's Software Development Kit (SDK), they will have access to a new version of the framework that can display what is affectionately called a "Fire and Forget" or "Mini Growl." That's a simple notification alert, but one that doesn't allow for much customization on its own; in order to change the look and feel of these alerts, the end user would have to get the Mac App Store application and make changes there.
The latest version of the framework will deliver its data to the 1.3 version of the application through another of its new features: a new networking standard. This networking protocol, GNTP, isn't new to Growl for Windows users, as it was first developed by that team and later adopted by Growl for Mac. One perk of this new feature is that cross-platform users will gain the ability to share their notifications across their computers, regardless of operating system.
The times they are a changin'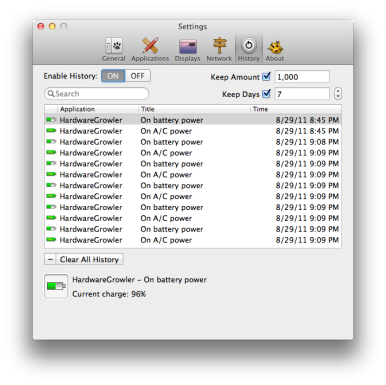 One change necessitated by the shift to the Mac App Store is that the utilities that previously came packaged with the Growl distribution will have to be spun off as their own applications or discontinued. The ever popular GrowlMail add-on has been picked up by Growl contributor Rudy Richter for continued independent development.
As for the rest of the bundled applications, Forsythe told Macworld that both the GrowlTunes add-on, which hooks into iTunes, and the HardwareGrowler, which keeps users updated about hardware status, will follow Growl into the Mac App Store. "The command line utility growlnotify will be an additional download that people can click a button to download from our website," Forsythe said. However, other add-ons, like GrowlSafari, will be left behind unless an enterprising individual takes the initiative to start developing them.
There are also some personnel changes afoot. Richter, who has worked on Growl for a long time, has assumed a new role as lead developer for the project. He replaces former lead developer Peter Hosey, who moved on to other pursuits in August. While Hosey is taking a step back, Forsythe describe him as "a good friend" and says he's "still welcome to work on Growl at any time."
New life to live
Numerically, Growl 1.3 may sound like only a minor update over Growl 1.2.2, but the new version is still a major milestone in the history of the open-source Mac software project, thanks to its feature set and new distribution method. It's not the first such product finding new life and sustainment through the Mac App Store, nor will it be the last, but it is a testament to the kind of projects that can make their way in Apple's marketplace.
Now available in the Mac App Store as a 7.3MB download, Growl 3.1 runs on Mac OS X 10.7 and requires a Mac with a 64-bit processor. If you're currently running Growl 1.2.2 or earlier, download and run the Growl uninstaller prior to purchasing and downloading Growl 1.3 from the Mac App Store. Your preferences and settings should be untouched after running the uninstaller.
[Derik DeLong is a frequent Macworld contributor.]