Toronto-based Agile Bits has released version 3.9 of 1Password, its popular identity management app for OS X. While the new release includes several enhancements and a few new features, the biggest news is that 1Password 3.9 is a Lion-only application, so users of pre-10.7 versions of OS X will have to stick with 3.8. The app is also built using a 64-bit architecture for maximum performance.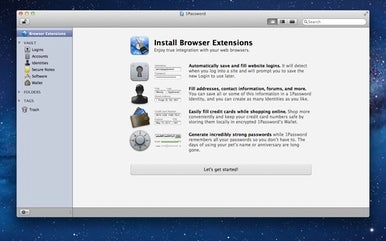 Among its new features, 1Password now sports a System Menu icon that can be used to control several aspects of the app without having to bring the program it to the foreground. The menu bar icon is not meant to replace 1Password's existing browser extensions; instead, the two are meant to work hand-in-hand, with future updates to the extensions being released separately, to make it easier for Agile Bits to keep up with changes in browser software without having to update the entire app.
The move to Lion has also opened the door to a few enhancements that are specific to Apple's newest desktop operating system. For example, 1Password can now run in full-screen mode, and uses a stricter security model to keep user data safe.
With version 3.9, 1Password also makes its debut on the Mac App Store, which, according to a company spokesman, will become the app's exclusive distribution method going forward. Unfortunately, this has forced Agile Bits to introduce several changes in the way the software works in order to comply with Apple's App Store rules. For example, 1Password can now only interact with Dropbox under very specific circumstances, and features a number of limitations on the locations in which it can store its files and the ways it can back up its data.
1Password 3.9 requires Mac OS X 10.7 Lion and is available from the Mac App Store; in order to help existing customers upgrade, Agile Bits is selling the app for $20, 50 percent off the regular price.