NTT DoCoMo's CEO said Thursday that the launch of the Samsung Galaxy Tab next month will not be affected by a patent-infringement lawsuit by Apple.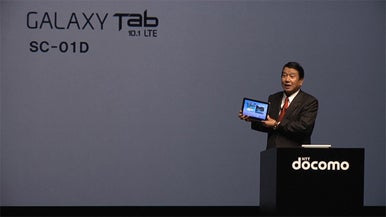 Such lawsuits from Apple, which allege patent infringements related to its iPad tablet, have blocked or delayed sales of Samsung's tablet across Europe, Australia, and Korea.
"We have heard from Samsung that there will be no obstruction to sales," said DoCoMo chief Ryuji Yamada. "We have been told that the patent situation is different in Europe and Japan."
Yamada spoke to reporters at an event to mark the launch of the tablet on its high-speed LTE network next month, along with a tablet from Fujitsu. He said tablets, until now grouped into the same product category as smartphones, will be a main focus for the company moving forward.
Apple has brought lawsuits against Samsung in courts around the world for patent infringments related to its smash-hit iPad tablet.
In Japan, Apple sued Japanese units of Samsung for damages of 1 billion yen ($13 million) in a Tokyo court, Japanese media reported.
Calls to Apple's Japan offices went unanswered. A Samsung employee that answered the phone at their Tokyo office said the company's spokesperson was unavailable Thursday evening.