We've already seen iPhone-controlled helicopters. This week, we bring you iOS-controlled monster trucks. (What's next? An app-controlled navy?) But if RC vehicles aren't your thing, there are also some new AirPlay-enabled speaker systems on the market, and more. Here are some of the accessories that caught our eye this week.
Cool Invent: Don't know about you, but we feel like the world of iOS accessories doesn't include enough heavy rocks. Lucky for us, Cool Invent's $239 Granite Dual iDocker solves that problem. The granite-based stand can charge and display both your iPhone and your iPad at the same time; both charging docks have ball joints that allow for optimum display of both your iOS devices in either portrait or landscape mode. (If you only want to charge and display your iPad, Cool Invent also offers the $189 Single iDocker.) Users can choose from eight different shades of granite to complement their home office surroundings. Rock on!
Dexim: It's been awhile since we've seen a commercial for a monster truck rally—do they still exist?—but we still couldn't help but start shouting, "Sunday! SUNDAY! SUNDAY!" when we saw the $70 AppSpeed Monster Truck from Dexim. The remote-controlled vehicle comes with an accompanying transmitter that plugs right into your iOS device. Do that, fire up the free DFSPeed app, and you can operate your truck either using touch controls or by tilting your iOS device in "gravity sensor mode." Add the monster truck to all the iOS-remote helicopters we've seen in recent weeks, and your average iPhone owner could soon have a fleet of vehicles at their command.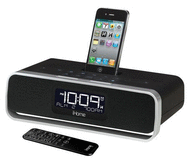 iHome: After getting an unveiling at the Consumer Electronics Show in January, iHome's $100 iA91 stereo alarm clock for the iPhone and iPod is finally hitting the market. It syncs the time on your docked iOS device with its own clock, which also includes an AM/FM radio and the capability to play music directly from your iPhone. Download the iHome Set application to control the clock radio using your iPhone, or use the accompanying remote control. If you're a sleepyhead, the iA91 comes with a "gradual" setting on the alarm to gently stir you into wakefulness.
NuForce: Hardcore audiophiles can sometimes be dismissive of digital music and the loss of sound fidelity they find pervades the format. NuForce's $249 Icon iDo aims to address that issue by restoring iOS-device-hosted music to "CD-quality sound." (Do today's youngest music consumers even know what CD quality sounds like?) The Icon iDo plugs into your iPhone or iPad's 30-pin dock-connector port, bypassing the iPhone or iPad's digital-to-analog converter (DAC) in favor of the Icon iDo's own. The iDo also includes a higher-quality headphone amplifier for using high-end headphones to get the full experience.
Onkyo: The veteran AV company has introduced its iOnly family of products, a series of docking and speaker systems for iOS devices. The iOnly Play is a "shelftop" sound system designed to let iPhones and iPods dock on top; the iOnly Bass is more of a portable boombox with an iPad-compatible dock cradle on the lower-front of the chassis. Both systems are expected to launch in October at a price of $249 each. A third product, the iOnly Stream, will follow later in the year.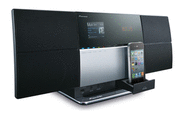 Pioneer Electronics: Pioneer has introduced two new AirPlay-enabled speaker systems, together dubbed the Music Tap family. The $400 X-SMC3-S Music Tap features a 2.5-inch LCD screen, Internet radio, and a dock cradle for the iPhone and iPod. The X-SMC4-K Elite Music Tap costs $479, and includes those same features as well as Bluetooth connectivity. Using Apple's AirPlay technology, users can wirelessly stream music from their iOS device directly through the speaker system. Both devices will hit the market in October.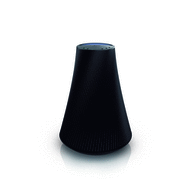 Sony: The electronics giant this week formally announced the November launch of its SA-NS500 wireless speaker. The $400 speaker works with Apple's AirPlay technology to let users stream music directly from their iPhone or iPad, either via existing AirPlay-enabled apps or using a free application from Sony. The speaker system is portable, and can run for up to six hours on a single battery charge.
iPad (1st generation) Family