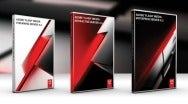 Since the launch of the iPhone in 2007, Apple and Adobe have been engaged in a cold war over the future of Flash on the iOS platform, a conflict that has occasionally warmed as the companies and their employees traded barbs. And so, while Friday's release of Adobe Flash Media Server 4.5—which can stream content to iOS devices—could be construed as a step towards détente, it doesn't yet mark the tearing down of the wall.
Let's be clear, first, on what this development isn't, and that's "Flash on the iPhone" (or iPad, or any iOS device). As my colleague Lex Friedman wrote in April, when Adobe first announced its intended Flash Media Server update, the software allows content providers to deliver multimedia content—mainly video and audio—to a host of platforms, among them iOS. But it accomplishes this task by providing that content in a format that iOS devices already understand—namely, the HTTP Live Streaming technology that Apple introduced in version 3.0 of the iPhone software. HTTP Live Streaming transmits video and audio to both iOS devices and Macs travels over the same HTTP protocol that your Web browser uses
So, in essence, a content provider using Flash Media Server 4.5 would have only to import their media into the and let Flash do the heavy lifting of converting it into whatever format the client platform—be it Mac, PC, iOS, Android, or other—needs. That's a step-up from the current situation, where many providers need to make both Flash and iOS-compatible H.264 streams available. (Though it's worth noting that many online streaming video providers who use Flash—such as YouTube, Vimeo, and Brightcove—have already updated their own players to intelligently switch to HTML5-based H.264 video streams for iOS clients.) Adobe's adoption of HTTP Live Streaming means that this conversion can happen at higher level for those providers who use Flash Media Server.
So why isn't this "Flash on iOS"? Well, aside from former Apple CEO Steve Jobs's strident arguments against Flash, there are a lot of capabilities of Flash that are unrelated to media delivery: Interactive games, for example, or Flash-based websites. Just because Flash video is now easier to deliver doesn't mean that those restaurant websites will be any easier to browse on your iOS device. (However, thanks to a couple tools from Adobe—one called Wallaby, which can convert Flash code into HTML5, and the company's AIR implementation for iOS—that future may not be so far off.)
Tensions between Apple and Adobe have thawed greatly in the last couple of years, with Adobe CEO Shantanu Narayen even saying publicly that the argument between the two companies was over. While the two might not be willing to call bygones bygones, they do at least seem willing to be cordial. But, in the end, the group that will benefit the most from these softening relations will be one that found themselves unwittingly caught in the crossfire—the users.
Updated 9/13, 6:47a.m. PT to remove references to Flash Access being updated to support iOS devices.