For creative professionals working digitally, screen space has always been a priority: We buy large external monitors, invest in 27-inch iMacs, and build expansive workflows to cover every inch of screen space. Wacom, in a quest to continue this trend, has decided to up the ante on its Cintiq line with the Cintiq 24HD, which provides—as you might have guessed—a full 24 inches of widescreen real estate.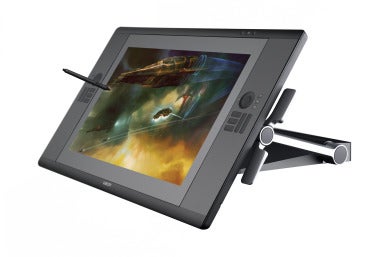 While the 24HD features the same 2048 levels of pressure-sensitive pen-and-screen technology you know and love from the Cintiq 21UX, it takes design cues more from a desktop easel than a traditional monitor, providing a wider range of use for the broader creative professional market: The company is attempting to expand beyond the Cintiq's typical illustration/animation market and target non-linear editors, compositors, game developers, and more.
The unit—which weighs a whopping 63.8 pounds (or 29 kilograms, for our metrically-inclined friends)—features a counter-weighted stand and controls for adjusting height and incline, allowing users to work both vertically and, if they so choose, orient the monitor so that it hangs over the desk at an angle for easel sketchwork. (Wacom also notes that you can even adjust the monitor upward slightly, in case you want to use it vertically with a keyboard.)
The screen itself boasts a 1920×1200 "high-definition" resolution across a 24.1-inch (diagonally measured) screen, with another few inches of bezel for comfortable hand-resting and controlling the 24HD's Touch Rings and programmable Express Keys. Like previous Cintiq efforts, the 24HD can be used both as an external monitor and, with a Wacom pen, as a pressure-sensitive tablet; fans of touch-sensitivity, however, will be left wanting, as the Cintiq line remains pen-only.
The Cintiq 24HD will begin shipping in October for a cool $2499; you can pre-order it from Wacom's online store or buy it once it hits stores from any of the company's authorized resellers.