Customers haven't exactly been shy about purchasing e-books, if Apple's numbers from earlier this year are any indication. This week, Apple released a new section in its online bookstore in the U.S., aimed at selling more bite-sized ebooks. The section, dubbed Quick Reads, offers a small range of short-form books—from short stories to manuals—which can be purchased for $5 or less.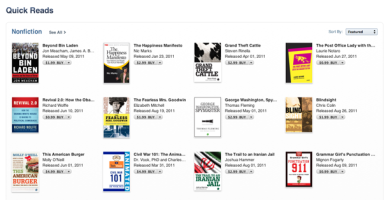 The release of Quick Reads is the latest example of an attempt to fill a gap between longer items, like traditional books, and shorter items like Web posts. Amazon's seen some success with its own shorts section, Kindle Singles, whch is targeted at publications between 5000 and 30,000 words, and sports a price range between $1 and $5. From the social-networking side, the #longreads tag on Twitter has also become a popular way to easily share links to pieces of this length.
Apple's Quick Reads may be an attempt to reach out to another potential audience. Some people may be looking for something quick and compressed to read; maybe it's due to a busy lifestyle, or perhaps they just want a shorter piece as a break from long-form titles. It's also a better place to put topical works such cookbooks, or literature that isn't quite typical book material.
Businesses also have an opportunity to take advantage of Quick Reads. For instance, newspapers and journalists are beginning to publish ebooks to detail how they reported big or interesting news. The Guardian, for example, has a number of ebooks in the iBookstore, looking at how topics such as 9/11 and the UK's phone hacking scandal were covered.
It's still uncertain what Apple hopes to achieve with Quick Reads, and whether it will become a permanent fixture in the App Store, though it's likely to achieve some popularity with heavy iBookstore customers looking for a quick literary fix.
The Quick Reads section is available under the Books section of the iTunes Store.
[via The Next Web]