Reader Dan Gilbert is a man who wants his news, newsy. He writes:
I'm not sure this is the right place to go for this, but I'll give it a shot anyway. I like to visit Google's News page to catch up on current events. The problem is that recently I've noticed that Google news links to a lot of stories from sites I wouldn't consider news-focused—gossip and sites with a very definite political slant. Is there some way to filter out these sites so I get real news?
It so happens I remarked about this very thing on Twitter recently and, in short order, had the answer. It works this way:
Go to Google News and sign in with your Gmail account (if you're not already signed in). Click on the Personalize button that you see near the top of the page. Below you'll spy an Adjust Sources area. In the Adjust Sources field enter the name of a site you don't want to hear from—tittletattlefortheeasilyentertained.com, for instance. As you type, a list of matching sites will appear. Select the specific site you want and click Add. It will appear in a list below with a slider next to it.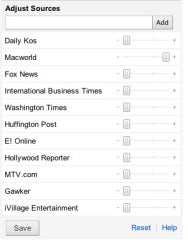 For those sites you never want to see stories from, simply drag this slider all the way to the left. Similarly, if there are sites that you'd like to see links from early and often, move that slider to the far right. When you've adjusted the settings to your liking, click on the Save button below. The news page will refresh. If there were any stories from the sources you've given the kibosh to, they will disappear.
Sites shown in image are for example purposes only and do not reflect the editorial views of the author or Macworld.